Weekend Events: Arcade Mode, Challenges, & Crate Unlocking Sale!
Featuring rockets & LMGs in a NEW unranked mode, fresh rewards, and more!
Ready to drop into The Arena? This weekend in H1Z1 features a new unranked mode with a special ruleset, two BRAND NEW rewards, and a Crate Unlocking Sale - more details on each below!
Arcade Mode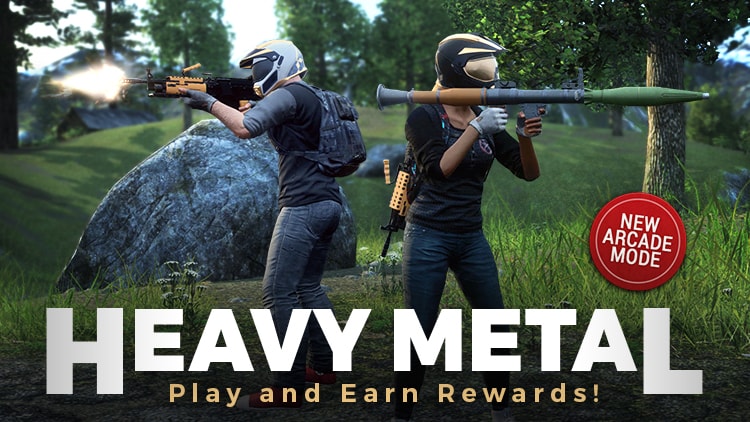 H1Z1 is a highly competitive battle royale game, and we wanted to add an option for those who'd like to practice playing on the map without having their matches affect their Season rank. That's why we're introducing Arcade mode - this new option in the Play menu lets you jump straight into an unranked match!
Starting at 10AM PT on Friday, May 4, Arcade mode will unlock with a new special ruleset - HEAVY METAL:
Parachute into a Solos game with 100 players total
Rocket launchers, LMGs, and Makeshift Armor have been added to the loot table for maximum mayhem!
Plus, what would a weekend event be without rewards? Read on below for how you can pick up the Heavy Metal Backpack from Arcade mode and the Heavy Metal Makeshift Armor from regular Battle Royale Solos, Duos, or Fives.
Note: With the addition of Arcade mode, you may notice that Events have been removed from the Play menu. Our intention is to use Arcade mode as a way to bring you fun and unique rulesets with exclusive rewards in an unranked environment. Unlike Events which had designated match start times, Arcade mode matches can be started whenever the mode is unlocked for play.
Weekend Rewards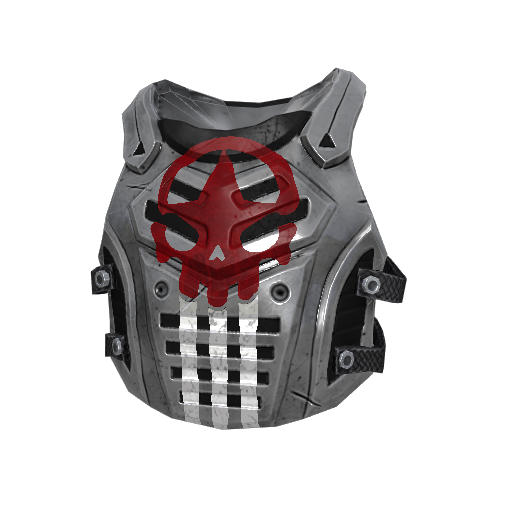 Heavy Metal Backpack
To celebrate the launch of our new Arcade mode, there's a matching Challenge just for this weekend! Get 5 Top 25 finishes in the new Arcade mode between 10AM PT on Friday, May 4 and 10AM PT on Monday, May 7 to receive the NEW Heavy Metal Backpack.
Heavy Metal Makeshift Armor
Last week's Top 10 Challenge got you a Gilded Ebony Motocross Helmet, and we're bringing you a new reward for this weekend's grind! Just be one of the top 1,000 people across all regions with the MOST Top 10 finishes in Battle Royale Solos, Duos, and/or Fives between 10AM PT on Friday, May 4 and 10AM PT on Monday, May 7 to earn yourself the NEW Heavy Metal Makeshift Armor.
The bottom of this article will be updated once daily with the Top 10 Challenge leaderboards as the weekend progresses - be sure to check back to see where you stand, and the Armor will be granted to those who earn it next week!
Crate Unlocking Sale - 70% OFF!
Looking to clean out your Crate collection and refresh your look? Look no further - from 10AM PT on Friday, May 4 through 10AM PT on Monday, May 7, you can unlock any locked Crates you currently have for 70% OFF the regular price!
Top 10 Challenge Leaderboards - FINAL RESULTS
Below is the final list of those who made the cut after this weekend's challenge. Congratulations to those who had a minimum of 16 top 10 finishes in Battle Royale Solos, Duos, or Fives - you'll be receiving your Heavy Metal Makeshift Armor as a direct grant this week!
| | | |
| --- | --- | --- |
| Character Name | Position | Top 10s |
| Extraterrestrial90 | 1 | 181 |
| sS_s_ZAN | 2 | 178 |
| Adamant_GangstaHM | 3 | 131 |
| Roger | 4 | 98 |
| UncleBean | 5 | 94 |
| FFTC_KENNYS | 6 | 83 |
| 0534_song | 7 | 79 |
| kotkBarbarossa | 8 | 78 |
| WoLuBenWeiBuMarEn | 9 | 76 |
| TyCoon_YuGuanXi | 10 | 74 |
| EbolaVirus_RedSh1rt | 11 | 73 |
| YoureNowOnTv | 12 | 73 |
| FANLESS | 13 | 72 |
| TyCoon_AnnINGBABy | 14 | 69 |
| TyCoon_AndyBaByFPS | 15 | 67 |
| Garbage_Shotgun | 16 | 65 |
| BTBANA | 17 | 64 |
| HeI_Feng_lI | 18 | 64 |
| G4bri31 | 19 | 63 |
| TyCoon_PangHu | 20 | 63 |
| HoodieBoyFPS | 21 | 62 |
| xGs_oldGoo1o3o | 22 | 62 |
| Mr_FrostSouL | 23 | 61 |
| YouBetterKillMeFirst | 24 | 60 |
| WoYaoqinqinQAQ | 25 | 58 |
| R1vers_FUgege668866 | 26 | 57 |
| TwoNine9 | 27 | 56 |
| H1Z1_ganlanlu | 28 | 53 |
| HogTeam_Eryi | 29 | 53 |
| NoSkillJustSkrici | 30 | 53 |
| 2015_10_11 | 31 | 52 |
| _XQ_ | 32 | 52 |
| ProLootBag | 33 | 52 |
| EbolaVirus_DrMax | 34 | 51 |
| EbolaVirus_cKtt | 35 | 51 |
| YiBaoNB | 36 | 51 |
| BUG_Disheveled | 37 | 50 |
| justbetterplayer | 38 | 49 |
| Blitz | 39 | 48 |
| amazon_co_jp | 40 | 48 |
| J_e_s_s_i_c_a | 41 | 48 |
| WDB_ALangYn | 42 | 48 |
| Marichuana | 43 | 47 |
| DonPatrik | 44 | 47 |
| ZodiacDK | 45 | 46 |
| Eldar | 46 | 46 |
| eXe_mynameisSOLDADO | 47 | 46 |
| IIFuRaXII | 48 | 46 |
| zNyc420 | 49 | 45 |
| QiYesu | 50 | 45 |
| Suxin__ | 51 | 44 |
| Zeruixi | 52 | 44 |
| Iam_pufan | 53 | 44 |
| AKA_DiamondDogs | 54 | 44 |
| Dustln | 55 | 44 |
| WBG_PRIMZ | 56 | 44 |
| BUG_illuos1ionYb | 57 | 43 |
| MJLover | 58 | 43 |
| LuciaNnX | 59 | 43 |
| A1eng_ | 60 | 42 |
| xStrawHatPirate | 61 | 42 |
| WHiskey88_EZ | 62 | 42 |
| SammyTheSavageBTW | 63 | 42 |
| 774 | 64 | 41 |
| RoYal_SpaSevenEleven | 65 | 41 |
| 400Dpi_Tz | 66 | 41 |
| zGEnsou1_Eriuc | 67 | 41 |
| PWRGirls_Pistolet | 68 | 41 |
| GD_MARS_GZ | 69 | 40 |
| ArLord | 70 | 40 |
| skravex | 71 | 40 |
| Skettit | 72 | 40 |
| FeaRoFDerbi | 73 | 40 |
| scene | 74 | 40 |
| _WHQ | 75 | 39 |
| Emperor9_WuKonG | 76 | 39 |
| Byes_ | 77 | 39 |
| BringBackOurGamePls | 78 | 39 |
| Shirou_Kamui | 79 | 39 |
| Shou__ | 80 | 39 |
| RoYal_7Tht | 81 | 39 |
| 10am | 82 | 38 |
| Sarsaparilla | 83 | 38 |
| BeiMi_ | 84 | 38 |
| pbp | 85 | 38 |
| missedu | 86 | 38 |
| DarthL0rd | 87 | 38 |
| Geddise | 88 | 38 |
| TheSawOfSnow | 89 | 37 |
| Skru | 90 | 37 |
| Kaspermourinho | 91 | 37 |
| schoolhouserocks | 92 | 37 |
| LucyFurre | 93 | 37 |
| delgeezee | 94 | 36 |
| Just4Top10_ | 95 | 36 |
| ADGaiNai_ | 96 | 36 |
| _9ms | 97 | 36 |
| Meiya0 | 98 | 36 |
| Dodgeyou | 99 | 36 |
| BigCox | 100 | 36 |
| FKL_Saur1k | 101 | 36 |
| TyCoon_ShayuBR | 102 | 36 |
| ZAYKNN | 103 | 36 |
| neostorm | 104 | 36 |
| ibe | 105 | 36 |
| ZIAWorld | 106 | 36 |
| Pal_FennuDepipi | 107 | 35 |
| Lan7_ | 108 | 35 |
| TyCoon_WeiSheYa | 109 | 35 |
| Harbor_Butcher | 110 | 35 |
| Cloverz | 111 | 35 |
| h1photographer | 112 | 35 |
| ISgy | 113 | 35 |
| deleng | 114 | 35 |
| RC1_mathieuken | 115 | 35 |
| SS_laotou | 116 | 35 |
| LafaysNA | 117 | 34 |
| Flaamy | 118 | 34 |
| 400Dpi_Ly | 119 | 34 |
| _YOYO_ | 120 | 34 |
| rHzRASTA | 121 | 34 |
| Friendly_Noob | 122 | 34 |
| Xividium | 123 | 34 |
| S_tink_Feet_99 | 124 | 34 |
| DC_v1ceh1 | 125 | 34 |
| Kemyst | 126 | 34 |
| PokeKing0v0 | 127 | 34 |
| 534 | 128 | 34 |
| withAlive | 129 | 33 |
| TTE_Orange | 130 | 33 |
| EbolaVirus_Dez | 131 | 33 |
| TMZ1_RED_Frajjola | 132 | 33 |
| lazhushiwobaba | 133 | 33 |
| GilletteSRB | 134 | 33 |
| JACKYCHAN_ | 135 | 33 |
| jDON | 136 | 33 |
| DreamBTW | 137 | 33 |
| badShooter | 138 | 33 |
| StoKul | 139 | 33 |
| kennySniper | 140 | 33 |
| KSwische | 141 | 33 |
| BestPlayerInAsia | 142 | 33 |
| KillerMc | 143 | 33 |
| bjoono7 | 144 | 33 |
| _Habibi | 145 | 32 |
| tester11 | 146 | 32 |
| KRGMaximiteKOREA | 147 | 32 |
| H5_SAMS | 148 | 32 |
| Matthew | 149 | 32 |
| ACLV | 150 | 32 |
| Dada_Minou | 151 | 32 |
| eviFeMeviGdnAf5 | 152 | 32 |
| StrikeZone | 153 | 32 |
| _SlaZz | 154 | 32 |
| BeiChuiChengZhuTou | 155 | 32 |
| eZ_Makeshift | 156 | 32 |
| BillyBills | 157 | 32 |
| zuMa | 158 | 32 |
| _WaZiiK | 159 | 32 |
| Eye8Her | 160 | 31 |
| devi4n | 161 | 31 |
| F_Snake | 162 | 31 |
| LeeChanTv | 163 | 31 |
| Adamant_zy2tap_ | 164 | 31 |
| _Acid_ | 165 | 31 |
| z1Y__ | 166 | 31 |
| BrzK_hotmonster | 167 | 31 |
| JacobFromTexas | 168 | 31 |
| CneK | 169 | 31 |
| IplayShadowPriest | 170 | 31 |
| HuaDaoChang | 171 | 31 |
| walmartsecurityguard | 172 | 31 |
| WinYy43085_v1Rang17 | 173 | 31 |
| SK_GH0ST | 174 | 31 |
| CasualFPS | 175 | 31 |
| 2Pinky1Stinky | 176 | 31 |
| RangerDC | 177 | 31 |
| jjinx | 178 | 31 |
| Z1Gamer_Mexi | 179 | 31 |
| Guccigang7 | 180 | 31 |
| DBZ_GOKU | 181 | 30 |
| que_sera | 182 | 30 |
| Dorfism | 183 | 30 |
| Iam_XiaZi | 184 | 30 |
| ItsK5 | 185 | 30 |
| HOWYADURN | 186 | 30 |
| 1MFR1ENDLY | 187 | 30 |
| genachello | 188 | 30 |
| ElmaFudd | 189 | 30 |
| noTime_Fullg0r | 190 | 30 |
| _KoC_ | 191 | 30 |
| ShadyTune | 192 | 30 |
| 400Dpi_yD | 193 | 30 |
| NINJA2 | 194 | 30 |
| five5tarPROFESSAH | 195 | 30 |
| HOWYADURN | 196 | 30 |
| ATP_LiuSs | 197 | 30 |
| WGC_sick | 198 | 30 |
| WinYy43085_alexDT | 199 | 30 |
| Oi1337 | 200 | 30 |
| WO_SHI_QIAO_ZHI_ | 201 | 30 |
| rabroskoide | 202 | 30 |
| 3OCM | 203 | 29 |
| BlXY | 204 | 29 |
| Jaffa_Goauld | 205 | 29 |
| 170TeamKiIlerTop1K | 206 | 29 |
| riv216 | 207 | 29 |
| FixOrRemoveShotgun | 208 | 29 |
| SuperSeducer | 209 | 29 |
| FozzyWazzy | 210 | 29 |
| StDx_Visions | 211 | 29 |
| Jsuipachinois | 212 | 29 |
| eGirI | 213 | 29 |
| R7_Captain_Luo | 214 | 29 |
| Vs_supermanmanofstel | 215 | 29 |
| PanDaTV953089 | 216 | 29 |
| 2old_blackbird | 217 | 29 |
| KOa7aMaN | 218 | 29 |
| uM_DepressionKid | 219 | 29 |
| TMZ1_RED_S4ndro1 | 220 | 29 |
| San_pang | 221 | 29 |
| pajacerka | 222 | 29 |
| the_Shark4tap | 223 | 28 |
| Masil | 224 | 28 |
| AR15_4tap | 225 | 28 |
| Wo_Zhen_De_Hao_Cai_A | 226 | 28 |
| wishxs | 227 | 28 |
| SNIR_Thechnium | 228 | 28 |
| 007sym | 229 | 28 |
| Dynamite_Suavecito | 230 | 28 |
| SellerixD | 231 | 28 |
| zGEnsou1_SugarDaddy | 232 | 28 |
| 400Dpi_N1ce | 233 | 28 |
| Adamant_Piccolo | 234 | 28 |
| Warthox_LABUT93 | 235 | 28 |
| AZONB | 236 | 28 |
| sebmeister | 237 | 28 |
| RoYal_BJ501 | 238 | 28 |
| AS_OBEYh1 | 239 | 28 |
| unknownwukoomg | 240 | 28 |
| 5AM_JunZeYA | 241 | 28 |
| PeaK_MaskEagle | 242 | 28 |
| KRG_CHEETAH | 243 | 28 |
| BRC_SICKOfps | 244 | 28 |
| 5cott | 245 | 28 |
| 44ojiisan | 246 | 28 |
| 7_Gray | 247 | 28 |
| _takatin_ | 248 | 28 |
| Granny_SweetPinkTao | 249 | 28 |
| Joker974 | 250 | 27 |
| Jerry_jiang | 251 | 27 |
| Swizzle | 252 | 27 |
| _MDM | 253 | 27 |
| Iam_dabing | 254 | 27 |
| aG_Underrated | 255 | 27 |
| LockeNess_ | 256 | 27 |
| Gilouz | 257 | 27 |
| Tauntfest | 258 | 27 |
| Doct0r911 | 259 | 27 |
| PierreTheMachine | 260 | 27 |
| FA_Ananas | 261 | 27 |
| _Katakuri | 262 | 27 |
| vitalityjhon | 263 | 27 |
| Fifees | 264 | 27 |
| Muertos_ | 265 | 27 |
| O_Tsixcinq | 266 | 27 |
| RY101 | 267 | 27 |
| Tsy_BK | 268 | 27 |
| Family_peak | 269 | 27 |
| BruceNee | 270 | 27 |
| WDB_NsBaby6 | 271 | 27 |
| IntelH2O | 272 | 27 |
| CFAmerica88 | 273 | 27 |
| AoQiXny | 274 | 27 |
| 200exp | 275 | 27 |
| Ps1d3r | 276 | 27 |
| 420Boost | 277 | 27 |
| 36Eshabaitian | 278 | 27 |
| WILD_R0N | 279 | 26 |
| Ensou1_cm95 | 280 | 26 |
| ganlanlu | 281 | 26 |
| Aoi_1sola | 282 | 26 |
| Searos | 283 | 26 |
| H5_Bambi | 284 | 26 |
| BIRTE3221 | 285 | 26 |
| tryH_Event_BTW | 286 | 26 |
| TTE_ToxicXs | 287 | 26 |
| Yuru1 | 288 | 26 |
| CC_DarkBlaze | 289 | 26 |
| TotalPotato | 290 | 26 |
| H2Z9_ | 291 | 26 |
| xcbxsupernova | 292 | 26 |
| xxWHoSHoTxx | 293 | 26 |
| SoyTortas | 294 | 26 |
| zGEnsou1_Dp | 295 | 26 |
| Ensou1_TaMeng | 296 | 26 |
| xMickey | 297 | 26 |
| Anomally_XX | 298 | 26 |
| FA_DYUK | 299 | 26 |
| F4CKYOUPiG | 300 | 26 |
| TRE_Democracy__ | 301 | 26 |
| Adamant_Supreme | 302 | 26 |
| Granny_AoFu | 303 | 26 |
| Muses9piMowang | 304 | 26 |
| R4geSilver | 305 | 26 |
| NativeIntellect | 306 | 26 |
| PWRGirls_BlAck_boy | 307 | 26 |
| H1PROMEGALULLEAGUE | 308 | 26 |
| GoingForTop10sOnly | 309 | 26 |
| 4K_JiuWuArQiBaby | 310 | 26 |
| __CHEETAH__ | 311 | 26 |
| Oycct | 312 | 26 |
| RiddIeJohn | 313 | 26 |
| River_ArJ1nBabyQAQ | 314 | 26 |
| danck | 315 | 25 |
| romanempajer | 316 | 25 |
| matthew | 317 | 25 |
| 3zpk | 318 | 25 |
| NaturaI | 319 | 25 |
| _Number9cApsLKya | 320 | 25 |
| THEFIFOL | 321 | 25 |
| MinYaoFPS | 322 | 25 |
| ESAM95 | 323 | 25 |
| buyaogapenwo | 324 | 25 |
| Nefas | 325 | 25 |
| EvilSylvanase | 326 | 25 |
| Suburbano | 327 | 25 |
| Ctrlwzlife | 328 | 25 |
| byalix | 329 | 25 |
| Sld_Hisko | 330 | 25 |
| Tsy_AK | 331 | 25 |
| FuYouTV | 332 | 25 |
| _Thorwald | 333 | 25 |
| TTVDrDisrespect | 334 | 25 |
| KoN_ | 335 | 25 |
| Ly_Aknub_Smile | 336 | 25 |
| Ev5_EroicakingFPS | 337 | 25 |
| taergehtnodnal | 338 | 25 |
| Solzet | 339 | 25 |
| GBM_100Skill | 340 | 25 |
| OhShaner | 341 | 25 |
| BrzK_possaki | 342 | 25 |
| Zepingolinha | 343 | 25 |
| 220ms | 344 | 25 |
| Dewd | 345 | 25 |
| THC_Highdi | 346 | 25 |
| LoneWolfRu | 347 | 25 |
| gdollarbill | 348 | 25 |
| GiveUsProLeaguHoodie | 349 | 25 |
| eddyHa | 350 | 25 |
| NTR_MarshmeIlo | 351 | 25 |
| Pundewhee | 352 | 25 |
| iZnoGouD_ | 353 | 25 |
| BSD_Tony | 354 | 25 |
| xJoshua | 355 | 25 |
| zextro | 356 | 25 |
| ThaBigBird | 357 | 25 |
| Adamant_Dazzle_ | 358 | 25 |
| YnE_GeTLiT | 359 | 24 |
| River_ | 360 | 24 |
| WalmartCringe | 361 | 24 |
| Gurvaan | 362 | 24 |
| Iam_xiaoguo | 363 | 24 |
| kolyachello | 364 | 24 |
| Keiran | 365 | 24 |
| Vz_Biesbes | 366 | 24 |
| SirRedrum | 367 | 24 |
| MerkH1 | 368 | 24 |
| LiuKangTv | 369 | 24 |
| Ren0nkerNL | 370 | 24 |
| Lilla_Tengil | 371 | 24 |
| Kuwabarasas | 372 | 24 |
| _Laofuzi | 373 | 24 |
| ItsJayKay | 374 | 24 |
| 100T | 375 | 24 |
| AK47LOL | 376 | 24 |
| ElevateTechno | 377 | 24 |
| huesos1210 | 378 | 24 |
| Aidogar | 379 | 24 |
| E7_HITMAN | 380 | 24 |
| Dossier | 381 | 24 |
| Hubble_Mithrility | 382 | 24 |
| Blorn0 | 383 | 24 |
| 200ms_wtf | 384 | 24 |
| BOCADETILAPIA | 385 | 24 |
| Koec | 386 | 24 |
| ItsK1ng | 387 | 24 |
| leAKlife | 388 | 24 |
| TrustedDriver | 389 | 24 |
| DarkRaver_ | 390 | 24 |
| ar4ewer | 391 | 24 |
| Adamant_Ghost | 392 | 24 |
| uP_Lit | 393 | 24 |
| RideMadafakaTv | 394 | 24 |
| BigDckNickFoles | 395 | 24 |
| _Shuri_ | 396 | 24 |
| Proml3acon | 397 | 23 |
| BaMBi_meddzerson | 398 | 23 |
| zGEnsou1_Minipeanut | 399 | 23 |
| 1xp04 | 400 | 23 |
| TwitterSpikey | 401 | 23 |
| _Meejin | 402 | 23 |
| Sudsx | 403 | 23 |
| oyubis | 404 | 23 |
| b0yNburq | 405 | 23 |
| ZackAttack_ | 406 | 23 |
| NandR7IllidanStormyA | 407 | 23 |
| ZhanFan_lao7 | 408 | 23 |
| AiR_JieSen | 409 | 23 |
| pEquinox | 410 | 23 |
| NoTapAK | 411 | 23 |
| hipz_ | 412 | 23 |
| __ZuoAnxxMaHua | 413 | 23 |
| 39th | 414 | 23 |
| BeRyce913 | 415 | 23 |
| Dolce_Vita | 416 | 23 |
| GG_4hp | 417 | 23 |
| killautistickids | 418 | 23 |
| zixxal | 419 | 23 |
| uM_Lewgee | 420 | 23 |
| CRAMs | 421 | 23 |
| LST_DaggerZ | 422 | 23 |
| _jonsbo | 423 | 23 |
| Derek1123 | 424 | 23 |
| Ancien_Kay0u | 425 | 23 |
| I_Love_my_GF | 426 | 23 |
| BenDope | 427 | 23 |
| TraJik | 428 | 23 |
| _shad0w | 429 | 23 |
| FoxGaming_Pattox | 430 | 23 |
| Jxrd_ | 431 | 23 |
| LesLegionsNoires | 432 | 23 |
| SyIence | 433 | 23 |
| Hubble_Caphos | 434 | 23 |
| Ruckus_Greenland | 435 | 23 |
| vacuLhizi | 436 | 23 |
| Cog_ZouIei | 437 | 23 |
| Man_Taobao | 438 | 23 |
| MzViirus | 439 | 23 |
| sNake_PartyShooter | 440 | 23 |
| Snark_Schikei | 441 | 23 |
| N1y3un3h1ne | 442 | 23 |
| LegendaryPeanut | 443 | 23 |
| 2BiTs | 444 | 23 |
| EgoLuckyFPS | 445 | 23 |
| MP40 | 446 | 23 |
| 5AM_Blame | 447 | 23 |
| iiAce | 448 | 23 |
| CB_ELR | 449 | 23 |
| Zedifier | 450 | 23 |
| RIPphizzurp | 451 | 23 |
| cody | 452 | 23 |
| sPt_i4399 | 453 | 23 |
| ImperialLunshyLLE | 454 | 22 |
| Major_Stonuhh | 455 | 22 |
| 7Pro_Maszuka | 456 | 22 |
| KMAC | 457 | 22 |
| zZevra | 458 | 22 |
| xBeahh | 459 | 22 |
| FA_HelpfulEvil | 460 | 22 |
| TheBigBoyGoose | 461 | 22 |
| VK_YuR9 | 462 | 22 |
| ReiQQ | 463 | 22 |
| RAG_JakeR | 464 | 22 |
| 1MP_Ming_Yy80337279 | 465 | 22 |
| IMPULSE_Triton | 466 | 22 |
| RENTOKONE | 467 | 22 |
| Krumme | 468 | 22 |
| WDB_ZheX1uBoy | 469 | 22 |
| OfficerSlater | 470 | 22 |
| noTime_Cyrille636 | 471 | 22 |
| d2xp | 472 | 22 |
| Major_Pain | 473 | 22 |
| KillerSoapZ9Fps | 474 | 22 |
| BALTIMORON | 475 | 22 |
| 18Wish_SiLingBaBi | 476 | 22 |
| TytanBroTV | 477 | 22 |
| BDM_NoaH | 478 | 22 |
| ROX_Ox1eR | 479 | 22 |
| GTX_UNITED | 480 | 22 |
| ToxicExpress | 481 | 22 |
| C9Van | 482 | 22 |
| KRG_DoBi | 483 | 22 |
| ErycTric1ps | 484 | 22 |
| 594661883 | 485 | 22 |
| Trump_45 | 486 | 22 |
| 916Rinzler | 487 | 22 |
| Ghost144 | 488 | 22 |
| SupaaDupaa | 489 | 22 |
| Tfue_Yh | 490 | 22 |
| ASAP_Espekc | 491 | 22 |
| GG_WHISPORZ | 492 | 22 |
| CrazyBadGamer | 493 | 22 |
| RainyDayDreamAway | 494 | 22 |
| lMzl | 495 | 22 |
| ChampionMonFrere | 496 | 22 |
| TomeiejaQuiteiPaPai | 497 | 22 |
| Bronze5boy | 498 | 22 |
| Jsdu31 | 499 | 22 |
| TARGARYEN_VeN | 500 | 22 |
| 7Pro_Raiiden9 | 501 | 22 |
| uP1_St0nEe | 502 | 22 |
| YoungL0rd | 503 | 22 |
| WsNinoMVP | 504 | 22 |
| StDx_Grek | 505 | 22 |
| TheBeardedAnomaly | 506 | 22 |
| V1ZO | 507 | 22 |
| AnUnarmedBlackMan | 508 | 22 |
| ham5 | 509 | 22 |
| peace6 | 510 | 22 |
| Adamant_WindBaby | 511 | 22 |
| BRESS_ifenomeno | 512 | 22 |
| L_YiChen | 513 | 22 |
| xx0015 | 514 | 22 |
| BealyLad | 515 | 22 |
| zGEnsou1_Papa | 516 | 22 |
| Pump3N | 517 | 21 |
| HWR_RuFeng | 518 | 21 |
| BrunoTarigo | 519 | 21 |
| EgoGoodlucky | 520 | 21 |
| _ptekinhaa | 521 | 21 |
| velipo | 522 | 21 |
| thestuzy | 523 | 21 |
| MuZi7_7 | 524 | 21 |
| Tr1be_Se7en | 525 | 21 |
| SNIR_Veyzor | 526 | 21 |
| AFFEmitWaffe__ | 527 | 21 |
| IAmBlitz | 528 | 21 |
| _YukiBabyYa10v0 | 529 | 21 |
| Athena_MrsSm1th | 530 | 21 |
| H5_Losti | 531 | 21 |
| Daddy_Old_Greg | 532 | 21 |
| Mossely | 533 | 21 |
| VOSOVELINA | 534 | 21 |
| Xx42OBlazeItxX | 535 | 21 |
| BLTS_Rnt133 | 536 | 21 |
| SuggestAname | 537 | 21 |
| eoPeace | 538 | 21 |
| W_subETTE | 539 | 21 |
| SNYh1 | 540 | 21 |
| chuwaca | 541 | 21 |
| SS_WeiLin | 542 | 21 |
| lizzyling69 | 543 | 21 |
| BeVamoDale | 544 | 21 |
| crystrr | 545 | 21 |
| little_spoon | 546 | 21 |
| Taomuu_ | 547 | 21 |
| ClawMachin3 | 548 | 21 |
| ALin52121 | 549 | 21 |
| LG_rogue | 550 | 21 |
| CouldxWhoop | 551 | 21 |
| _BigMacNoSauce_ | 552 | 21 |
| rld_Rush_ | 553 | 21 |
| MosthandsomeYT | 554 | 21 |
| CRoss_Susu7 | 555 | 21 |
| RUF_RHINO | 556 | 21 |
| braian17 | 557 | 21 |
| def_75 | 558 | 21 |
| BUGlei | 559 | 21 |
| LucyPug | 560 | 21 |
| CT_Chery | 561 | 21 |
| AIaskan | 562 | 21 |
| Ruge | 563 | 21 |
| OutsiderxPULISSA | 564 | 21 |
| xMaSSaCre | 565 | 21 |
| Subriot | 566 | 21 |
| Soul_Fake | 567 | 21 |
| WakandaForever7 | 568 | 21 |
| BUMSBUS_ | 569 | 21 |
| OppaKlingonStyle | 570 | 21 |
| kypak | 571 | 21 |
| CS_Banana | 572 | 21 |
| Subbacultcha | 573 | 21 |
| CldBx | 574 | 21 |
| TsyAYuan3Jtou | 575 | 21 |
| LnD_ZheBzeiSmart | 576 | 21 |
| FTW_TBag | 577 | 21 |
| 5AM_B1eDuA1n1 | 578 | 21 |
| Tsy1ittleOneSix | 579 | 21 |
| PetitCornichon | 580 | 21 |
| WhowpZiang | 581 | 21 |
| SkullerKAO | 582 | 21 |
| lrreIevant | 583 | 21 |
| Gaby_Ace | 584 | 21 |
| OpOp_Dionta | 585 | 20 |
| LJiz | 586 | 20 |
| RoYal_EvA_JoyBiuBiu | 587 | 20 |
| noTime_Dikaa | 588 | 20 |
| 400DpiMAX_Kk | 589 | 20 |
| TMZ1_LEAD_NanoTerry | 590 | 20 |
| AddiCTeT | 591 | 20 |
| 1600Dpi_ | 592 | 20 |
| Nemesis_H1 | 593 | 20 |
| Tuzi__ | 594 | 20 |
| Choker9_Zoldiiqq | 595 | 20 |
| LNR_piaoling | 596 | 20 |
| WlNNER | 597 | 20 |
| ChiNa_XhFPS | 598 | 20 |
| JG_Jer | 599 | 20 |
| ToruB1 | 600 | 20 |
| eVolved_ZpK | 601 | 20 |
| NoJoyJack | 602 | 20 |
| madjane2 | 603 | 20 |
| CC_pecsnhair | 604 | 20 |
| bajojajo | 605 | 20 |
| Robert3581 | 606 | 20 |
| 7Se_Ty1u98 | 607 | 20 |
| Camii_Campos | 608 | 20 |
| newghost_tuto_190ms | 609 | 20 |
| oAxertion | 610 | 20 |
| GassRunner | 611 | 20 |
| BrzK_brun1NdAkiNg | 612 | 20 |
| BattleRoyalDsync | 613 | 20 |
| pS_aversion | 614 | 20 |
| JFRO | 615 | 20 |
| withDopa | 616 | 20 |
| Snark_Hazza | 617 | 20 |
| L1nkeNN_ | 618 | 20 |
| ABBAEY | 619 | 20 |
| Rogue_JasonFps | 620 | 20 |
| ArgNoob | 621 | 20 |
| SPR_KeepYouSmile | 622 | 20 |
| TR_MUPP_SQUADD | 623 | 20 |
| kispgg11 | 624 | 20 |
| FBI_SILVER_Lucao | 625 | 20 |
| Reactions_ | 626 | 20 |
| MONSTRUMZ | 627 | 20 |
| dassmy | 628 | 20 |
| Typsie | 629 | 20 |
| Goo_GuaiPiPFPS | 630 | 20 |
| Utopy_Mkz | 631 | 20 |
| RUCKSACKTRAEGER | 632 | 20 |
| Meuco | 633 | 20 |
| Vektor707 | 634 | 20 |
| Oddster | 635 | 20 |
| Liberty_MadMan | 636 | 20 |
| StepOneBR | 637 | 20 |
| Gliese581c | 638 | 20 |
| MarcoTrainotti | 639 | 20 |
| IchBinEinKaese | 640 | 20 |
| Caliciviridae | 641 | 20 |
| YwT_Skizzq | 642 | 20 |
| Peking_Duck | 643 | 20 |
| ChrisDalejr | 644 | 20 |
| KPK_NeeLLi | 645 | 20 |
| Overface | 646 | 20 |
| CookieSxiaoMD | 647 | 20 |
| duanfa_2tap | 648 | 20 |
| Vz_LennieZ | 649 | 20 |
| Bond_ | 650 | 20 |
| FIips | 651 | 20 |
| zatorkonde_hun | 652 | 20 |
| TimberTheSkillerd | 653 | 20 |
| LeonardoSchuh | 654 | 20 |
| eVo_Nes | 655 | 19 |
| kzkez | 656 | 19 |
| Bielz1nn | 657 | 19 |
| NanJing_DaBiaoJie | 658 | 19 |
| prqyl | 659 | 19 |
| ClayBB | 660 | 19 |
| OS_team_Ron | 661 | 19 |
| SoIdiur | 662 | 19 |
| BrzK_benimonster | 663 | 19 |
| BLTS_Wsly | 664 | 19 |
| DV_StyuL | 665 | 19 |
| Roger_Ver | 666 | 19 |
| Gardo_Suave | 667 | 19 |
| PLACEBO89 | 668 | 19 |
| K0REA | 669 | 19 |
| OMG_fridgemen | 670 | 19 |
| xFR13NDSx | 671 | 19 |
| ke_ty | 672 | 19 |
| HWR_Lotus | 673 | 19 |
| Static_WarHead | 674 | 19 |
| CREE_D | 675 | 19 |
| illMonster | 676 | 19 |
| BUGay_Gemini0528 | 677 | 19 |
| Duckgoosed | 678 | 19 |
| galstie | 679 | 19 |
| Mediakilight | 680 | 19 |
| FiShBuM | 681 | 19 |
| DC_T1Mini_Yy384989 | 682 | 19 |
| StaticSys | 683 | 19 |
| VK7_Kristy7 | 684 | 19 |
| CaioRocha | 685 | 19 |
| Iamverykind | 686 | 19 |
| DamnCrazy_Andyxbaby | 687 | 19 |
| LauroP | 688 | 19 |
| Goiranbasga | 689 | 19 |
| Skrt_XD | 690 | 19 |
| SoCalm | 691 | 19 |
| 98KING_ | 692 | 19 |
| Katsuni_ | 693 | 19 |
| YouAreSmelly | 694 | 19 |
| RoYal_Sup_OuYang | 695 | 19 |
| ChiNa_bBiLL | 696 | 19 |
| QRANKbo4r | 697 | 19 |
| SY_MMQQ | 698 | 19 |
| FIint | 699 | 19 |
| BmP_TS | 700 | 19 |
| ZE_DroGuinha_2TAP | 701 | 19 |
| ISG_Cinexio | 702 | 19 |
| AHT_Carcaju | 703 | 19 |
| LK_GUIZAOxtd | 704 | 19 |
| StDx_Rake | 705 | 19 |
| AsG_WuYa6liu6 | 706 | 19 |
| Pastagarainbowshadow | 707 | 19 |
| FoxGaming_Xereus | 708 | 19 |
| Dynamite_2Cold | 709 | 19 |
| SY_Bryant | 710 | 19 |
| Schizophrenicpsycho | 711 | 19 |
| LS_Axerion | 712 | 19 |
| ONe_XIyAnG | 713 | 19 |
| Unknown_chillaxe | 714 | 19 |
| jacehallsaveusall | 715 | 19 |
| PureEvil_Wenzi | 716 | 19 |
| JDevil | 717 | 19 |
| NanJingJQM | 718 | 19 |
| _Yy500205_ | 719 | 19 |
| 671 | 720 | 19 |
| Vz_w4rpfps | 721 | 19 |
| LND_911 | 722 | 19 |
| Hotchilli | 723 | 19 |
| Frownin | 724 | 19 |
| GM5_PiPi | 725 | 19 |
| Skeletonized | 726 | 19 |
| JustArize | 727 | 19 |
| NR_nickftwlul | 728 | 19 |
| Cyj_2tapNB123 | 729 | 19 |
| TwitchTVPrestoH1 | 730 | 19 |
| ItsAvratz | 731 | 19 |
| Devil_XiaoAn | 732 | 19 |
| R_32er | 733 | 19 |
| TwitchProtoFPS | 734 | 19 |
| JFloUnknown | 735 | 19 |
| BlackWaterGaYGaYA | 736 | 19 |
| mementowastaken | 737 | 19 |
| Doctor_Tod | 738 | 19 |
| tkArkansas | 739 | 19 |
| O_OolII | 740 | 19 |
| _mano4k_ | 741 | 19 |
| Savumakrilli | 742 | 19 |
| RoYal_Xiao_xin | 743 | 19 |
| BERTGEEZY | 744 | 19 |
| __wei | 745 | 18 |
| Ribosome | 746 | 18 |
| __DTXia8 | 747 | 18 |
| MeikSKYLINE | 748 | 18 |
| sibb_ | 749 | 18 |
| LosMasPro_Royce_515 | 750 | 18 |
| Pars1ey | 751 | 18 |
| KEYLOVERXZ123 | 752 | 18 |
| Supertr4mp | 753 | 18 |
| wangmeiren7 | 754 | 18 |
| yourAunty_ | 755 | 18 |
| Rezen_F | 756 | 18 |
| WGxXiaoedanGirl | 757 | 18 |
| 1UNFps | 758 | 18 |
| PJL_peAga | 759 | 18 |
| xtharp | 760 | 18 |
| FC_BiiG | 761 | 18 |
| LTZ_Tractor | 762 | 18 |
| Neguirso | 763 | 18 |
| BaMBi_Kakashiha | 764 | 18 |
| hAx_raGe | 765 | 18 |
| wh1te9c_SeVenTeen | 766 | 18 |
| pachk0 | 767 | 18 |
| Bushmast3r | 768 | 18 |
| THEYTALKABOUTMYSHOTY | 769 | 18 |
| D__J | 770 | 18 |
| absseven7 | 771 | 18 |
| Peak_Yan2Tap | 772 | 18 |
| BSD_iCana | 773 | 18 |
| Dj_Black8 | 774 | 18 |
| HazeMedic | 775 | 18 |
| PandaGaming_TooCozyy | 776 | 18 |
| Adamant_TonyDS | 777 | 18 |
| Dynamite_Sponsor | 778 | 18 |
| MasterChaos | 779 | 18 |
| 7Pro_Fureur | 780 | 18 |
| Acha_Nice0707 | 781 | 18 |
| FreeChizzy | 782 | 18 |
| BUG_JinWandalaoHuTop | 783 | 18 |
| Leego_ | 784 | 18 |
| Kuhn122 | 785 | 18 |
| morimoriJAPAN | 786 | 18 |
| VicTeaM_E | 787 | 18 |
| Le_Tournikeur | 788 | 18 |
| PRETTYBONDGIRL | 789 | 18 |
| Betterthanyouinwow | 790 | 18 |
| Sec90 | 791 | 18 |
| BlackOlives420 | 792 | 18 |
| PinkFrenther | 793 | 18 |
| Hanoj_ | 794 | 18 |
| DroiYan_Yage | 795 | 18 |
| shot9unking | 796 | 18 |
| _Soliy | 797 | 18 |
| Rick1Grimes1 | 798 | 18 |
| NZT_KetchupNA | 799 | 18 |
| TiuzinWolves | 800 | 18 |
| TG_xgh0stzz_ | 801 | 18 |
| SmileLucky_ARui | 802 | 18 |
| FLUSHrecoTrapdoRj | 803 | 18 |
| LST_H6 | 804 | 18 |
| SY_l1l | 805 | 18 |
| TheOddBlack | 806 | 18 |
| i69sOu1_BUZHA | 807 | 18 |
| kny | 808 | 18 |
| GTX_XIaoJIan | 809 | 18 |
| VirusProdige | 810 | 18 |
| WO_YAO_SHANG_DA_SHI | 811 | 18 |
| sloBillMatic | 812 | 18 |
| BAMBOLE_XerneS | 813 | 18 |
| BaTtLeSpM_9547 | 814 | 18 |
| DrinkCoconutBear981 | 815 | 18 |
| laubi | 816 | 18 |
| LYJ_GaoXiao | 817 | 18 |
| EaG1e_vVMaSa66_wOw | 818 | 18 |
| MX_tvaLx | 819 | 18 |
| fu_weng_liang | 820 | 18 |
| Peak_yangyang | 821 | 18 |
| DreamGN_IKing | 822 | 18 |
| BlackOnline | 823 | 18 |
| realhenq | 824 | 18 |
| Racer10 | 825 | 18 |
| uP_zHunTer | 826 | 18 |
| TwLy_JorDanChan | 827 | 18 |
| MICAres_Sdram | 828 | 18 |
| Timangi | 829 | 18 |
| M1ke_ | 830 | 18 |
| ZhaiDongBoSs600Dpi | 831 | 18 |
| SuperFREN | 832 | 17 |
| OpOp_Predu | 833 | 17 |
| Oops_DevilFanovo | 834 | 17 |
| _BlackPnther_ | 835 | 17 |
| Kbla | 836 | 17 |
| _Hard | 837 | 17 |
| pdlenn | 838 | 17 |
| BUG_illuos1ianYa | 839 | 17 |
| BUMBUMTAPTAP | 840 | 17 |
| DTz_TimZ1 | 841 | 17 |
| Are_you_here | 842 | 17 |
| Watergun97 | 843 | 17 |
| KASH2011 | 844 | 17 |
| YingYangTaMere | 845 | 17 |
| F_R_A_G_Z_A_F_R_ | 846 | 17 |
| _Paprii | 847 | 17 |
| _dome | 848 | 17 |
| H1Z1_Boss | 849 | 17 |
| ReEn_BlueFire | 850 | 17 |
| Seiryuu86 | 851 | 17 |
| LaLustreuseDeCul | 852 | 17 |
| SLEDNE_HayZo | 853 | 17 |
| Raving_ | 854 | 17 |
| LyriixxD | 855 | 17 |
| CrownTi_i7Boy | 856 | 17 |
| 2TapTeaspoon | 857 | 17 |
| FA_Cmurrayy | 858 | 17 |
| DAFTBRO | 859 | 17 |
| iDt_i9Cpu | 860 | 17 |
| ZodiacDK_Smurf | 861 | 17 |
| TowMaters | 862 | 17 |
| blind0wnSESH | 863 | 17 |
| Major_Breeze | 864 | 17 |
| GG_APD | 865 | 17 |
| Gsc_Hello99 | 866 | 17 |
| Sandersezejk | 867 | 17 |
| ElDingo34 | 868 | 17 |
| DeathByWatermelon | 869 | 17 |
| Rockabout | 870 | 17 |
| PsychoMadClown | 871 | 17 |
| bezvik1 | 872 | 17 |
| WAB_XiaoQiPa | 873 | 17 |
| WS_HannahMontana | 874 | 17 |
| NR_JayStra | 875 | 17 |
| 10AhC | 876 | 17 |
| BrzK_Nxk | 877 | 17 |
| T0nyMontana_NL | 878 | 17 |
| As3uc | 879 | 17 |
| TinkyWinky1511 | 880 | 17 |
| 94_95 | 881 | 17 |
| EmbraceTheDillyDilly | 882 | 17 |
| HelloWon9FPS | 883 | 17 |
| PurestImpurity | 884 | 17 |
| Imperial_Pastatown | 885 | 17 |
| paradocs | 886 | 17 |
| Adamant_Liquor | 887 | 17 |
| SSV_Kavas | 888 | 17 |
| huwuxuanyang233 | 889 | 17 |
| BeamerBoyTrizkoh | 890 | 17 |
| GrosseBite01 | 891 | 17 |
| ImaRhinoceros | 892 | 17 |
| VRK_WHITE_N3ek7 | 893 | 17 |
| 95K_Hizzy | 894 | 17 |
| I_blow_your_head | 895 | 17 |
| NBK_Acid | 896 | 17 |
| JackyLaFriteBE | 897 | 17 |
| OPE_LAOLIU | 898 | 17 |
| LadyH1 | 899 | 17 |
| uBs_MazaUM | 900 | 17 |
| TS_Joey | 901 | 17 |
| Aguia_Destroy3r | 902 | 17 |
| nKx3 | 903 | 17 |
| Gs_SoulmateBaby | 904 | 17 |
| EbolaVirus_HA | 905 | 17 |
| Sobol_OG | 906 | 17 |
| Letzling | 907 | 17 |
| NightmareSolomon | 908 | 17 |
| heedan | 909 | 17 |
| AndreyLiberato | 910 | 17 |
| Bananinha_ | 911 | 17 |
| GideJon | 912 | 17 |
| KOTW_KeXiao98_ | 913 | 17 |
| H5_benj1 | 914 | 17 |
| Andreas2nd | 915 | 17 |
| NightWing84 | 916 | 17 |
| zunberabon | 917 | 17 |
| brxndon | 918 | 17 |
| JUST_Messi | 919 | 17 |
| galaxize | 920 | 17 |
| maxxheartisbae | 921 | 17 |
| Ryzen_Power | 922 | 17 |
| RGE_Mystify | 923 | 17 |
| _DaChui | 924 | 17 |
| danscally84 | 925 | 17 |
| wGz_GMV | 926 | 17 |
| guiZAO_ | 927 | 17 |
| Galici__ | 928 | 17 |
| Michel_Blanc | 929 | 16 |
| 886exp | 930 | 16 |
| EFP_ShouX1 | 931 | 16 |
| jQuery_459baby | 932 | 16 |
| mef1kk | 933 | 16 |
| tatu1014 | 934 | 16 |
| 2TabsTittySprinkles | 935 | 16 |
| FBI_GOLD_BiM | 936 | 16 |
| bahncos | 937 | 16 |
| MUTEinstead | 938 | 16 |
| Showeyy | 939 | 16 |
| ImNotEnasing | 940 | 16 |
| HWR_XiaoAilanG18boy | 941 | 16 |
| Tolliya | 942 | 16 |
| mifive | 943 | 16 |
| 7iko | 944 | 16 |
| jOnathan263 | 945 | 16 |
| __Ox | 946 | 16 |
| Seba7x | 947 | 16 |
| BilINye | 948 | 16 |
| K_O_n_E | 949 | 16 |
| Morrowcris1s_TPlinKo | 950 | 16 |
| Adamant2_XQ | 951 | 16 |
| Dw_Ku1Ran | 952 | 16 |
| GRG_DuBaiBaby | 953 | 16 |
| ImperialRealive | 954 | 16 |
| AlphaRabbit | 955 | 16 |
| katanguinha | 956 | 16 |
| DOA_FxDeD | 957 | 16 |
| 9_Manda | 958 | 16 |
| noTime_xeno0ox | 959 | 16 |
| WAB_3DLong | 960 | 16 |
| Nerps | 961 | 16 |
| FiF1_ | 962 | 16 |
| Xims | 963 | 16 |
| DaRealMVP_Pinky | 964 | 16 |
| f0rdz | 965 | 16 |
| WGC_durry | 966 | 16 |
| sadgucci | 967 | 16 |
| Faith_GrayFoxTHumpsK | 968 | 16 |
| HelmutFritz | 969 | 16 |
| Seagu1I | 970 | 16 |
| Xypx | 971 | 16 |
| woshigaoshou_2tap | 972 | 16 |
| VK_626Boy | 973 | 16 |
| PReTORIAN_ | 974 | 16 |
| NR_dETAlLS | 975 | 16 |
| tony_sniper1tapking | 976 | 16 |
| Aiyo_yuer | 977 | 16 |
| Mmp_2Diu | 978 | 16 |
| IGe_D12tap | 979 | 16 |
| Vz_Adnap | 980 | 16 |
| CT_MasterMom | 981 | 16 |
| BraiixD | 982 | 16 |
| VG_Ay | 983 | 16 |
| TG_13Seb37 | 984 | 16 |
| Nurselady11 | 985 | 16 |
| LK_OnlyFiori | 986 | 16 |
| Vz_skeppet | 987 | 16 |
| FA_OsherBTW | 988 | 16 |
| FaZe_DuKiD | 989 | 16 |
| DukeTv | 990 | 16 |
| _LoopY_ | 991 | 16 |
| RoyaltyInDisguise | 992 | 16 |
| LsJ_mz | 993 | 16 |
| shocky_ | 994 | 16 |
| Mua_NZya | 995 | 16 |
| myNAmeSunshine | 996 | 16 |
| RoYal_EvA_JieGe | 997 | 16 |
| KILLERXHUNTER | 998 | 16 |
| RushY_NR | 999 | 16 |
| Os_SunnyBaBa | 1000 | 16 |
| Danimama | 1001 | 16 |
| archje | 1002 | 16 |
| Vego_Z1 | 1003 | 16 |
| Zoo_ZeXin17 | 1004 | 16 |
| Amalgax | 1005 | 16 |
| INS44 | 1006 | 16 |
| 364JI0 | 1007 | 16 |
| __RagnaR__ | 1008 | 16 |
| sloBCiel | 1009 | 16 |
| kumiluttero | 1010 | 16 |
| H2k_SureyarM93tap | 1011 | 16 |
| SwiftB | 1012 | 16 |
| pewpewdude | 1013 | 16 |
| Warthox_Fritzi | 1014 | 16 |
| pleXos | 1015 | 16 |
| AshTi_HaiTang | 1016 | 16 |
| THEUItimateBamse | 1017 | 16 |
| uBs_MorettiSkill | 1018 | 16 |
| CN1_SaNsH1 | 1019 | 16 |
| Deer_9 | 1020 | 16 |
| Trinn | 1021 | 16 |
| devil_yueding | 1022 | 16 |
| 0Iiver | 1023 | 16 |
| ROX_MrRaizo | 1024 | 16 |
| jayewalk | 1025 | 16 |
| XJ_KZ_66_FanGe | 1026 | 16 |
| old_boom | 1027 | 16 |
| SLEDNE_Authentify | 1028 | 16 |
| ICEHEAD_BillyCaolho | 1029 | 16 |