Cloud9 Talks Team Play
Get to know the ambitious players and how they tackle teamwork!
The Cloud9 H1Z1 team recently competed in the Fight for the Crown tournament, which is set to air Thursday, April 20 on The CW! We took some time to talk to the team about how they have come together to make their mark on the competitive scene.
Cloud9 is made up of five passionate and ambitious players. Krumme and Sweaterr established themselves as skilled competitors back in 2015 as part of the winning team in the H1Z1 Showdown. Since then, Krumme has proven himself to be an adept shotcaller in competitive duos matches, while Sweaterr has poured thousands of hours into the game and racked up over 1,500 match wins. Krypted, another strong team player, has been contesting spots on the leaderboard since the game's earliest days. CrunchBruh and Mobz have been demonstrating high levels of game skill since they began playing competitively in Champions Arena tournaments.
The Players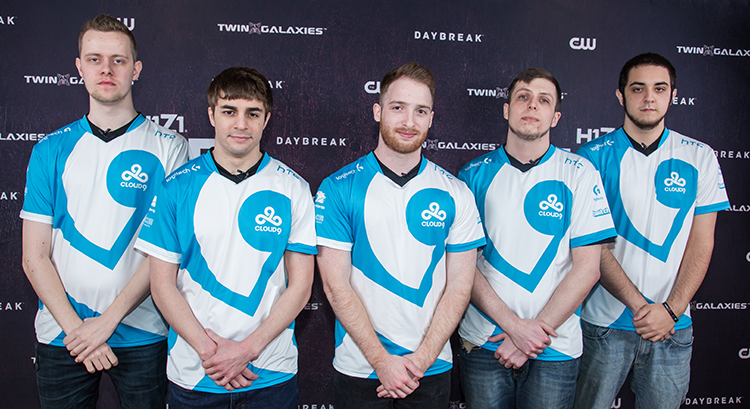 When did you decide you wanted to play H1Z1 competitively?
Mobz: I started playing H1Z1 because of how fun it looked on Twitch, but I began taking it a bit more seriously when Champions Arena was introduced. When I experienced the hype of someone shoutcasting an entire game, it was love at first sight.
Krumme: I played in one of the very first duo tournaments on a private server and ended up in a 1v1 against Lyndon, who was, funnily enough, Sweaterr's partner at the time. I ended up beating him, and I just knew that if there was ever going to be a competitive scene, I was going to be there.
Sweaterr: After my first competitive match win, I realized I wanted to share those wins with a group of friends, day in and day out. It's so satisfying getting kills, and there's nothing like wiping out teams with your own team.
CrunchBruh: After a couple of the Champions Arena games, I realized I wanted to keep growing as a player. I'd always wanted to go competitive in a game, so that's when I started grinding.
Krypted: I played shooters competitively for years, and as soon as I started playing H1Z1, it grew from there.
What does your playstyle generally look like, and how does this play into the team dynamic?
Mobz: I love slaying and challenging any other top players. I especially love the hunting rifle and always feel confident when I'm able to get one, although I also take pride in being able to adapt to anyone else's playstyle and play off of them.
CrunchBruh: I like to bounce around and dodge as many shots as I can while landing body shots on other players. I try to knock off lammies, and run them out of materials.
Sweaterr: Essentially, I just try to be super quick and as fast as possible.
Krypted: I think we all play pretty similarly. As far as my own role, I bait a lot; I'll just throw myself out there.
Krumme: Since becoming a team, we've all learned from each other. I don't think there's much difference in the way we each play.
How do you get yourself ready to compete in a serious match?
CrunchBruh: I sit down, crack a Red Bull open, and try to clear my mind.
Krumme: For me, it's more important to be mentally prepared than warm up my shot. I know my shot will be decent at worst, but if you're not in the mindset to fight against 5 people that are working together to kill you, then you won't be ready to play. Being in the mindset is by far the most important for me.
Krypted: I really don't do anything special. I just sit down and play.
What sets Cloud9 apart from other teams?
Mobz: We don't have one shotcaller. From what we've learned, our plays develop based on the scenario. For example, even if Sweaterr is calling most of the shots, sometimes another teammate will see a piece of terrain we need to take or a possible pinch scenario where we can pick up some kills, so we follow them. It takes a lot of experience and trust in one another, and it's very effective.
Sweaterr: We have a lot of synergy and respect for each other and our callouts. If Crunch says we should focus on someone, no one questions it. If Mobz tells us we should push a hill, or if Krumme starts screaming, there's no second guessing. We react to each other's calls quickly and trust each other.
What was your reaction when you found out you were selected to play for Cloud9?
Sweaterr: It essentially motivated me to try and pick up wins left and right. I definitely want to keep being a part of this scene and this team, so I'm doing everything I can to make sure I'm the best player I can be.
CrunchBruh: After we got signed to Cloud9, I spent the next two days walking around like, "Is this real? Is this actually Cloud9?" The day before, I had actually been joking about "C9 Crunch," and the next night we were signing with the org. It was just crazy.
Krumme: I still think it's kind of surreal, getting to be part of a team like this.
If you could give a piece of advice to a player who wanted to get into the competitive scene, what would you tell them?
Mobz: My advice to any new player getting into the scene is to watch top players stream. Focus on what works for them and what gets them killed, and then play solos doing what you learned. You should be practicing in solos until the end of time.
Krypted: Grind, grind, grind. Solo matches and leaderboards.
CrunchBruh: Grind. Stay streaming, stay on the leaderboards.
Anything else that you would like to add?
Sweaterr: Thank you to Daybreak and Cloud9 for everything so far. Without you guys, we wouldn't be anything.
Catch Cloud9 in the H1Z1: Fight for the Crown tournament on April 20 at 9/8c on The CW Network! Until then, you can keep checking back to get to know more of your favorite competitive teams!