Legendary Unique Giveaway!
H1 of 1
H1Z1 has launched on PC and we're doing something special where all of our players have a chance at earning something truly unique.
We're giving away TWO Legendary Unique items. These are the first of this rarity, and there will only be one of each item in existence, never to be given out again! In case you were wondering, they can be traded.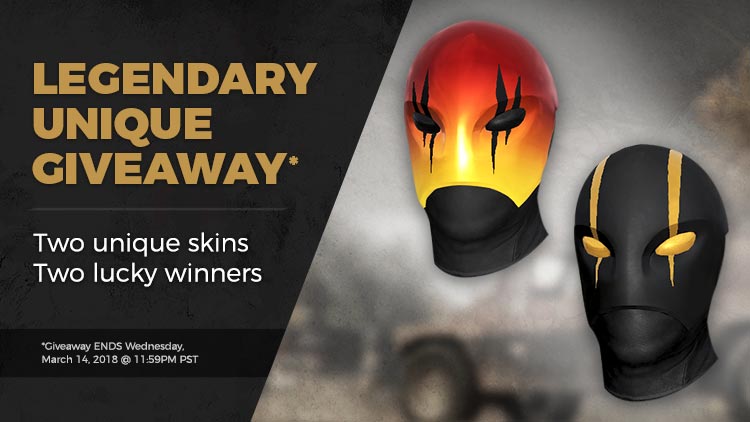 How do you get a chance to win each of these items? Players earn entries from items acquired in eligible crates, and the better quality item, the MORE entries earned:
Uncommon / Common: 10 Entries
Rare: 100 Entries
Ultra Rare: 1000 Entries
Items acquired by trade or the marketplace do not grant entries.
Giveaway 1: Midnight Helmet
To qualify for the Legendary Unique Midnight Helmet (name subject to change), players must gain entries from opening the Mayhem Crate, and only the Mayhem Crate. Don't forgot to earn your free Silver Mayhem Crate in the next several days by playing three rounds of Auto Royale!
Giveaway 2: Sunset Helmet
To qualify for the Legendary Unique Sunset Helmet (name subject to change), players will gain entries from items acquired in the following eligible crates:
Victory
Mayhem
Zodiac
Payload
Trickster
Icebreaker
2017 Invitational
Nemesis
Nomad
Frostbite
Infernal
2016 Invitational
As an added bonus for players that have been with us since before launch, any crates you've opened PREVIOUSLY, that are included as eligible crates for this promotion, will retroactively give you entries into the Sunset Helmet giveaway. These entries have automatically been counted for your account.
The Ground Rules
NO PURCHASE NECESSARY TO ENTER OR WIN. THIS PROMOTION IS SUBJECT TO ALL APPLICABLE LAWS. VOID WHERE PROHIBITED. You must have an active account in good standing and you must log into H1Z1 between Wednesday, February 28th @ 6:00 AM PST through Wednesday, March 14th @ 11:59 PM PST in order to be eligible. This promotion is sponsored by Daybreak Game Company LLC (Daybreak Games). Each eligible account will receive an amount of entries based on the rarity of items from crates as described above. Chances of winning depend on the total number of eligible entries. Entries will count even if an item is traded away, but entries will only be granted based on items obtained directly by opening a crate.