Dev Blog: H1Z1 Updates from a Technical Zombie Wizard
Get to know the man who brings the undead to life!
Welcome to the Official Developer Blog for H1Z1. If you've been following H1Z1 development for the past of couple months since our reveal and first gameplay stream, you may have noticed that we have a pretty transparent approach to game design and development here at Daybreak. As we head toward H1Z1 Early Access release on Steam, it is extremely important to us that we collaborate directly with our players throughout the development process. You can find most of our team on Reddit and Twitter daily, divulging ideas for features, asking questions, taking polls, perusing your suggestions and feature requests, and generally just trying to get to know the community better. In addition to Reddit and Twitter, we plan to write longer-form update blogs here on our website. So let's kick this off with our first post!
-------------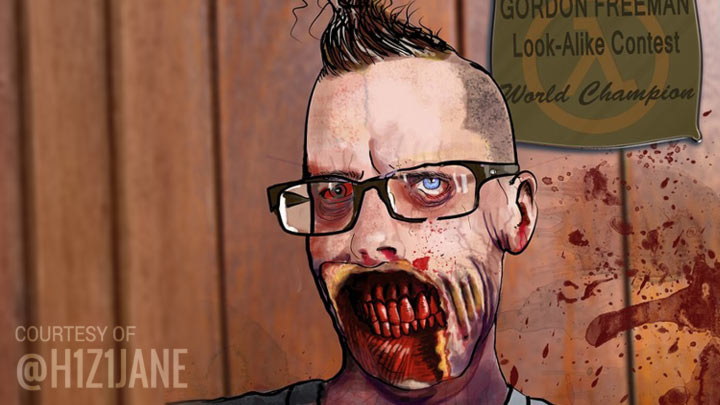 I'm Tom Schenck, Technical Director on H1Z1. "What does that mean?" you may ask. Well, as the Technical Director, I am responsible for overseeing the coding teams. I help manage the testing plans, guide the teams on production of the game code and data, and make sure game production moves smoothly through the development processes. I hold the "Technical Vision" for the project and also manage any glaring technical issues. To learn more about me, check out my recent Q&A video!
As for the game, we are currently in a pre-alpha stage of development, and have an Early Access feature list that we are working against to hit launch status. That means every day new items, features and abilities get created and checked into the game world. On our most recent livestream, we showed off combat and crafting, and in particular, player crafting of a new weapon, the bow (and arrows). The team has put in some cool bits we can all be proud of, and the full systems are almost all in place. Bows and arrows can be crafted from found materials and can be used to take down zombies with nice headshots, as well as hunt deer by shooting them in the eye for example.
In addition to that, we continue to work on melee interactions with some fine tuning. Doing a little punch combo shove-back before a nice right hook makes for a good fight sequence, but it's a little creepy when the zombie you just punched looks at you as you as they fall over … awkward.
High priority on our Early Access feature list is polishing group behavior and tuning Emergent AI systems to the entire ecosystem. Our AI team is going nuts regulating interactions for all of the NPC characters in the game including zombies, deer, wolves, and more. We've also had a few "Ultimate Warrior" battles between the different AI's to see who comes out on top. (The wolves are winning right now.)
In addition, performance is crucial for a massive open world game and we've been trying to test the limits by enabling hordes of zombies to run around in huge packs. In collaboration with our Emergent AI systems, this can make for some pretty precarious life-or-death situations. Needless to say, it's provided some entertainment and some … well, MANY deaths.
We've also been hard at work squashing bugs and fixing broken features. We've set the bar pretty high for the quality of play experience we want, so we don't show things off on stream until they are solid and polished. This doesn't always mean they're tuned properly, but that the features and systems are all in place and ready to be played with. For example, in prepping for our bow livestream I got this epic moment: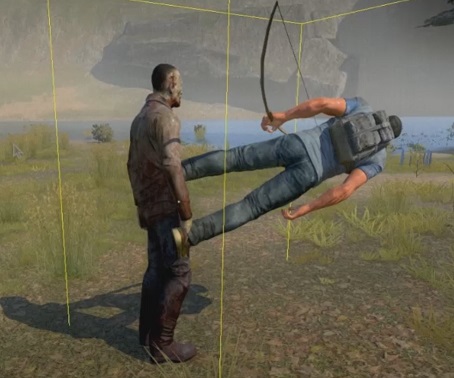 Of course, while some lucky folks got to play H1Z1 at our studio event or at E3, everyone else is anxiously awaiting the opportunity to play Early Access on Steam and we are so excited for that phase of development, too! While we don't have any dates to announce just yet, we do want to continue to make this a very interactive development cycle, so keep an eye and ear out for announcements, talk to us on our social channels… oh, and continue to shoot over any cool Fan Art you may have created. We absolutely LOVE that stuff!
Tom Schenck
Technical Director, H1Z1