August 25 - New UI, Map, and More
Executive Producer, Chris Wynn, give a quick look at upcoming King of the Kill features.
There is so much happening on King of the Kill on a daily basis that I have been increasing the frequency of our updates to the game. The daily iteration is really staggering right now and we're excited to start sharing what we've been working on.
Bugs and optimizations continue to be the team's primary focus and we are making a lot of great improvements.
Z2 – The Arena
Z2 has been absent from the test servers for quite a while because we have been furiously testing and tweaking it. We recently circulated some new assets so that everyone can see the progress that has gone on there. Every time we cruise around the new map, we see some really beautiful moments. Not only are the visuals amazing, but better loot distribution should mean a significant upgrade to your King of the Kill matches. Also, you will notice we are going to lose the internal Z2 label and start referring to it by its official name, The Arena.
Most of the current effort is on fixing some of the final bugs and turning towards optimizations so it can perform as well as we want it to. Be sure to check out the video and screenshots that were released yesterday to see the massive improvement over the old map. I am really proud of what the team has achieved here, and it is really going to improve the overall game experience. Our plan is to take another week to focus on it and then look for an optimal time to make The Arena available on the Test server. This is the map we intend to use for the Invitational, so we want everyone to have it available for practice.
Skirmishes
This month's skirmish seems to have been really successful, so it is a good time to cover some larger changes regarding skirmishes.
Similar to our approach around matches with Zombies, we will retire Ignition as a game mode and move that into our Skirmish ruleset options. The mode was a lot of fun to create for us and many of you liked it during its original release. However, over time most players have gravitated back into the core experience of King of the Kill. We want to double down on that and ensure the overall experience is consistent, so it makes sense for us to have a core playstyle and keep adding variety through the skirmishes running each weekend.
Another change coming further down the road is the removal of specific reward sets in skirmishes. We used it as a way to experiment, but long term we want a more robust system for distributing rewards. When we switch to that system, we will remove match rewards from all modes in order to have distribution consistency across the entire game.
As a reminder, this weekend will be the final weekend for the Reanimation skirmish. For September, we are going back to a fan favorite with Snipers and Shotguns only. I would like to roll in another new ruleset, but we are going to hold that until October. We are working on a whole list of other ideas too, but for now we want to give another go to the most popular one to date.
New UX
It's a little strange how excited I am for the new user experience changes coming. But, we have all been playing for so long with what is essentially a temporary UI in Early Access, that seeing a really well-thought-out and polished one is pretty exciting.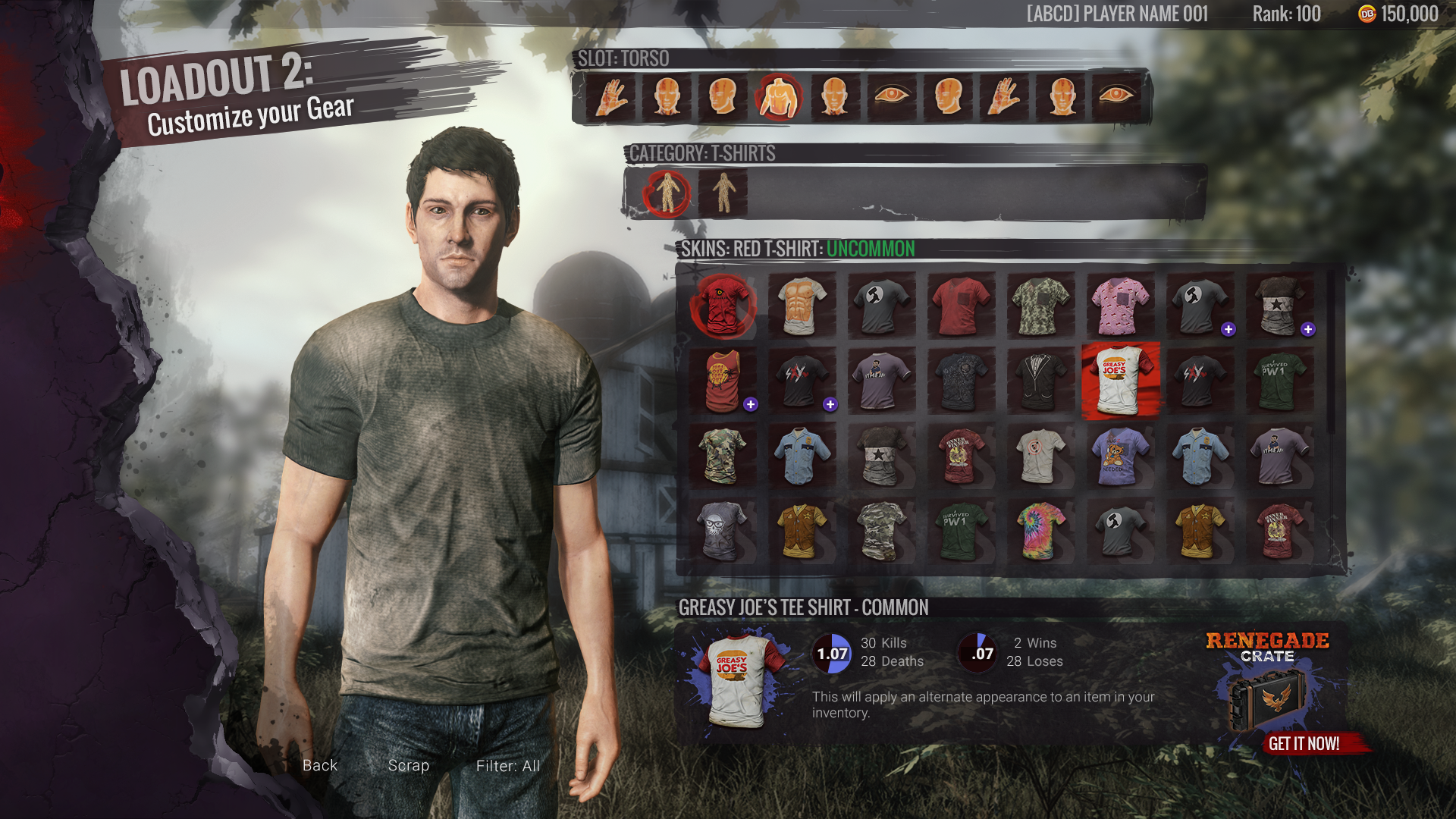 We completely redesigned the UI from the ground up. We have been able to watch many of you play the game with the current UI and have folded in your feedback into this new design. For starters, you no longer have to select servers, just what type of game you want to play. You will have the ability to skin your character in the front end PRIOR to joining a match, so there will be no more need for weird hiding and skinning in game. You'll be able to do the expected things like adjust your settings, but you'll also have the ability to look at leaderboards, which will have complete search functionality. Everyone will be able to see where they are, not just the top players.
The in game HUD is now built to be informative with your character info that matters to you, along with surfacing important game data to help you make the best decisions as you work your way through a match. The Inventory is really being streamlined as well. Just one large combined container to worry about, no need to worry about managing your pants pockets versus your backpack. The addition of a new, dedicated consumable slot for med-kits and bandages make it a lot easier to manage that part of the game.
King of the Kill has always been as fun to watch as it is to play. It has been an important part of our success to date and we want to provide the ability to keep that going. Within the new user experience comes some pretty cool features to connect with and discover people within the Twitch community. Connecting your Twitch account to your Daybreak account will provide some benefits in game that you will not want to miss! You can discover the most popular streamers or the newest up-and-comer on the Twitch leaderboards. If you are a broadcaster, you'll be able to find ways to interact with your viewers with the ability to invite them into 2s and 5s with you from within the game's UI. Linking Twitch to the game is just the beginning for where we ultimately want to go and our goal is to help out everyone who enjoys streaming (or watching) the game.
Invitational Crate
The Invitational has really been heating up as we have been selecting players to participate for the cash prize pool on October 2nd. Yesterday we released my favorite crate to date into KotK, the second Invitational Crate. I love this one because it contains items from some of my favorite streamers, but also 25% of the proceeds from the crate go to directly fund the Invitational prize pool.
The streamers had direct input as to the look of their items, and they are pretty sweet. Ninja and Grimmmz scored the elusive AR skins for winning last year's Invitational, but all the items look great, so you really can't go wrong regardless of what you get.
I am excited to see what the prize pool gets up to this year. Last year it eclipsed $170,000. This year's field is absolutely stacked and the competition is going to be really intense, so it will be exciting to see what the top 10 in each match is competing for!
There is so much more to share in the coming weeks and please continue to give us your feedback on changes!