5 Servers. 1 Epic Showdown.
Are you a #BRBadass? You could compete in the Showdown!
Attention Battle Royale fans! Coming this December, Daybreak is proud to present the H1Z1 Showdown!
What is the Showdown?
The Showdown will take place on December 12, 2015. It's a tournament event pitting 75 Battle Royale players against each other for fame and glory.
How will competitors be chosen?
From November 10th through December 6th, a group of players will be operating their own whitelist servers. Our server hosts are:
summit1g
sxyhxy & Trick2g
CDNThe3rd
Ninja & MrGrimmmz
PhazePyre (Team Reddit)
The server hosts will act as team captains, selecting 12 players from their servers to represent them in the Showdown—server hosts will not actually participate themselves. In addition to those invited from the servers, Daybreak will watch the stats to select some of the top Battle Royale players to participate. Players selected by Daybreak will be drafted by the team captains, so that each of the five teams in comprised of 15 players. This means that even if you aren't associated with a particular team, you still have the opportunity to participate in the H1Z1 Showdown.
The servers and tournament are part of a pilot program to help the H1Z1 team identify key lessons for potential future programs, tournaments and more.
Is there a new crate? What's cool about it?
The H1Z1 Showdown crate will be dropping in Survival and Battle Royale. It's got unique skins themed for the Showdown and each of the team captains. Here's what's included in the crate: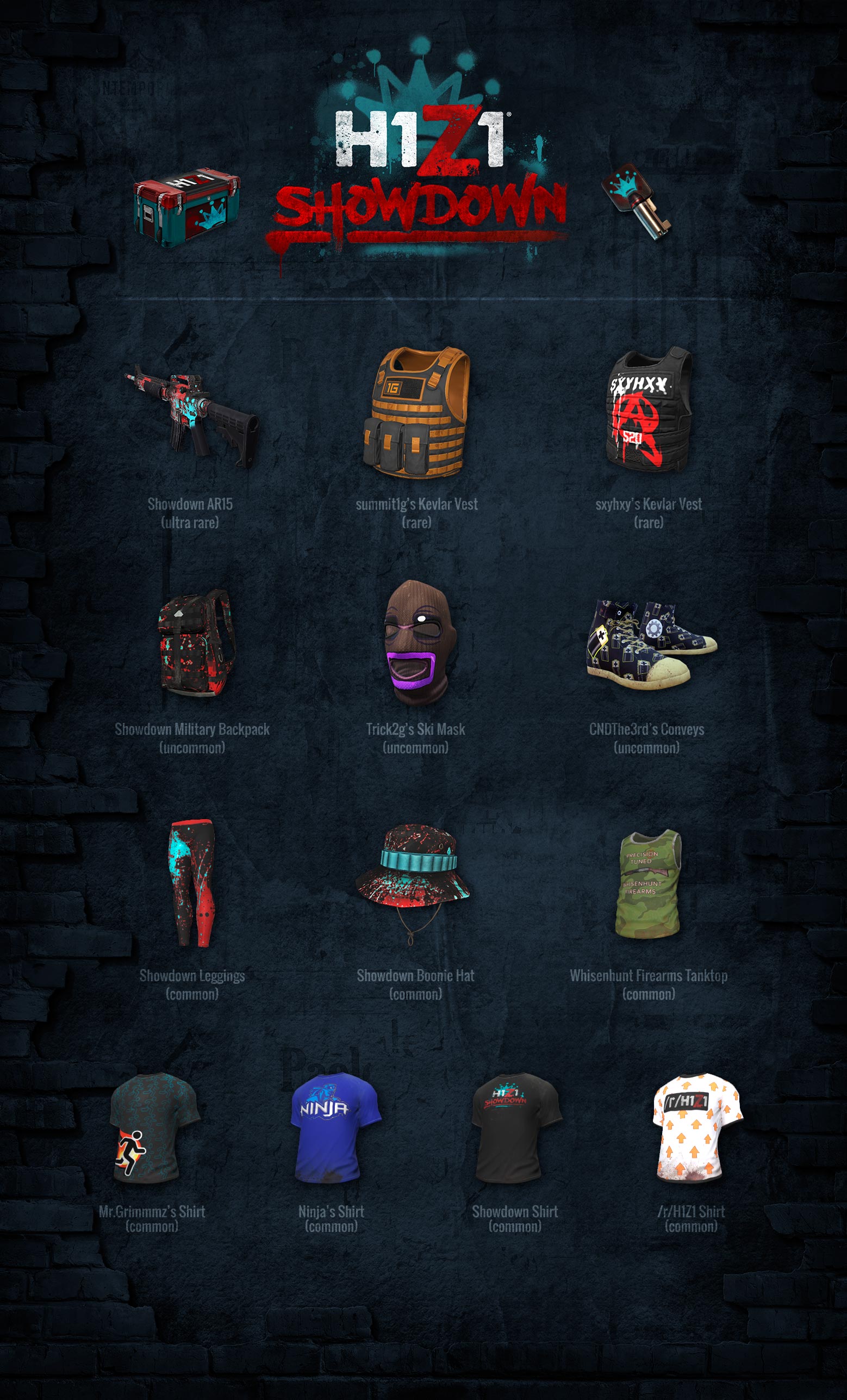 PLUS from November 10th through December 12th, Daybreak will be donating $0.50 for every H1Z1 Showdown Crate key purchased to Share Our Strength's No Kid Hungry campaign, with a guaranteed minimum donation of $40,000. The No Kid Hungry campaign connects kids in need with nutritious food and teaches families how to cook healthy, affordable meals.
What else?! I want to know more!
Stay on top of all the news at www.h1z1.com/showdown, and join us on twitch.tv/H1Z1 on December 12 for all the action!