Producer Update for April 20th, 2016
The H1Z1: Just Survive and H1Z1: King of the Kill Executive Producer maps out Z2!
Hi everyone, and thanks for taking the time to give this a read. I know that many of you have poured countless hours into H1Z1 and all of the developers thank you for that.
Before I get into things, I wanted to make sure everyone caught the announcement about King of the Kill being at this year's TwitchCon.
Z2
I promised an update on Z2 recently, so let's start there. If you are new to things, Z2 is the codename for an all new map being built to replace the current map (Z1) in the game. While this update note is specific to King of the Kill, Z2 will be used in Just Survive as well; more on that below.
Compared to any other single feature, Z2 is the most resource intensive to develop. It has the largest single team working on it, and it will be in development for many months in total. With an 8km x 8km playable space, it is easy to see why it needs so much effort. Every part of the map needs to be populated with terrain, trees, grass, stumps, rocks, gravel, houses, buildings, roads, etc. Every single one of those assets has been rebuilt from the ground up, started entirely from scratch.
It is also being re-architected in comparison to Z1 so that when we optimize it, it can provide better performance. It is coming alongside some updates to our lighting and other rendering systems, the visual quality of the map will be a significant increase in quality.
As I mentioned, the process of building a map of this size takes many months. The general order of development looks as follows. There are some simultaneous activities here, but this is the rough order things are worked on.
Generate terrain
Point of interest population
Spawn and loot population
Building layout and design
City layout and design
Art pass on terrain
Tree pass
Art pass on buildings
Lighting pass
Optimizations
Each sector of the map is being designed to have a POI. Those are being added in to compliment the major POI's (like the dam and Pleasant Valley). This is being done to provide something of interest in each area and provide a lot of gameplay and discovery to go along with it. In the King of the Kill, no matter where you spawn, you will not be too far from a POI (some more major than others) to go explore and loot.
A lot of the early work that has been shared publicly was done as tests to new systems and tools to get ready to go into full production of the map (which is where we are now). I can understand some frustration in that the map was talked about quite some time ago and then not really mentioned since then. We are definitely hard at work on it, reviewing it regularly and making changes to accommodate the feedback from those reviews.
I am sure that what you care most about is when you will get to see it. We are working on a plan right now that will get it out sooner rather than later (although that doesn't mean tomorrow, sorry!). We are going to embrace the Early Access part of H1Z1 and get the map up prior to it being complete. That means that when we release it, some of the buildings will probably be bright white (as we layout a map we work with white buildings to represent buildings that will be added later by artists), and other areas may not be fully fleshed out. But you will see it develop in real time as we continue to update other parts of the game. Doing this allows us to collect feedback and make changes as we go along.
A special note for Just Survive players: there are some additional steps that we have to go through to make the map work well in Just Survive, so we will likely release it in King of the Kill first, get it ready for Just Survive, and then release it into Just Survive. This is simply so we can get it out quicker. If we waited on both until it was ready for both, we would just be holding on to one, and we don't want to do that.
We will continue to share progress in these updates, as well as our monthly art videos that we share. Follow @H1Z1JustSurvive and @H1Z1KotK on Twitter; they will sometimes provide you with a sneak peek from our artists at work in development. In fact, here's a sneak peek right now: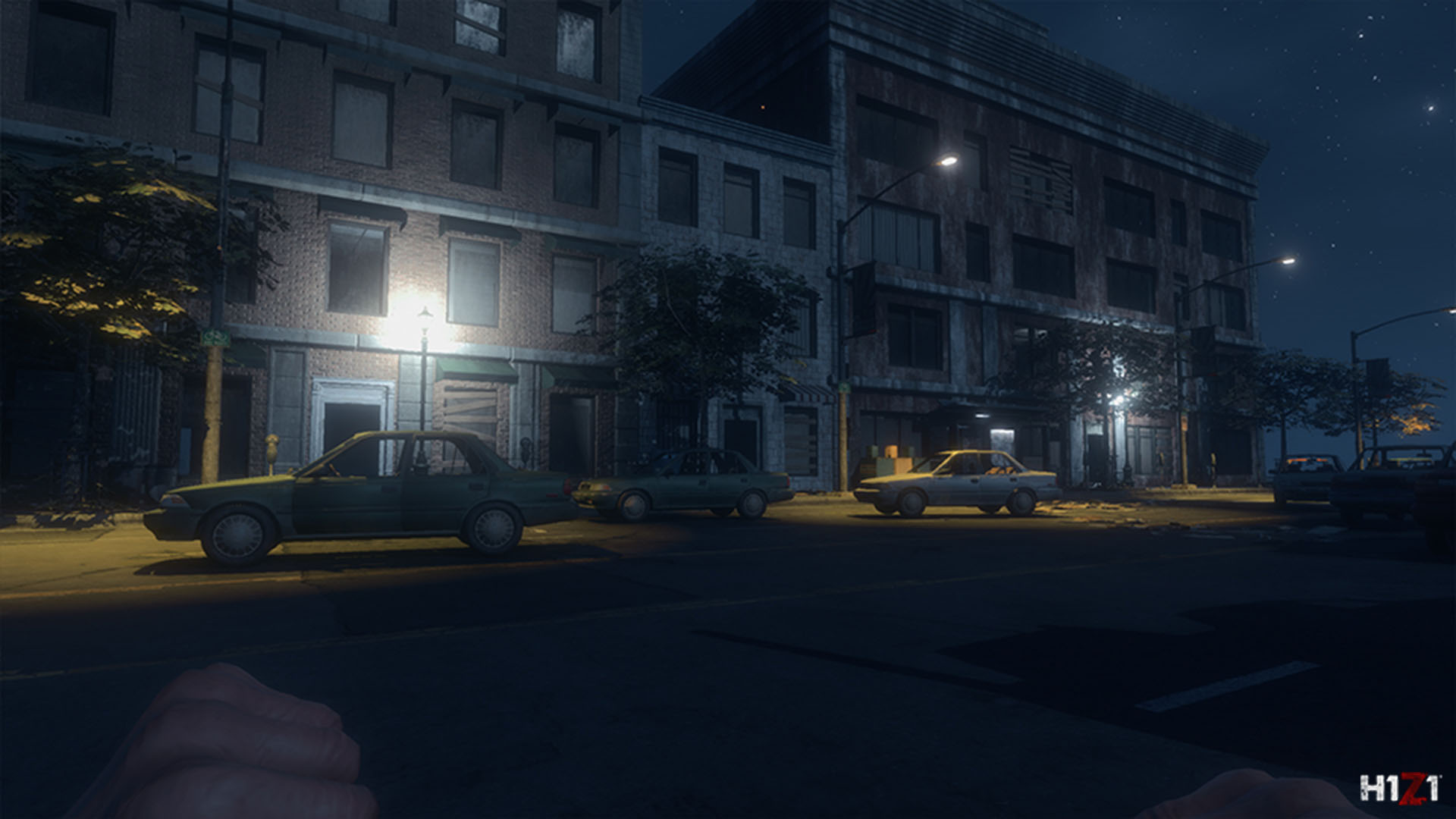 Ignition
Please join our Test servers this weekend for another look at our new mode, Ignition. This is likely our final test run of the new mode, so get in now to check it out and give us some feedback. Our plan is to do this last test, make a final iteration on the mode, and then add it to the Live servers for regular play in early May. Again, we're embracing the Early Access part of this and want to get it out; we will continue to tune and iterate, but we believe that it is close and ready for large scale play.
Cameras and Combat
Cameras and combat continue to be a heavy focus for us. A lot of times they go hand-in-hand. We are reviewing every video that we can find where someone is confused as to why a combat encounter resulted the way it did. In some cases we have found bugs, some have highlighted problems with our feedback systems, and some just are not clear enough to the player when those situations played out correctly. We are slowly rolling out changes and monitoring to see if there was an impact or not to continue to make this better. When I am really confident that everything is working as expected, I will wrap up everything that we did to address it.
Working their way up to our live servers now are some changes to make the camera smoother going through doors and prevention of camera going through walls and other objects, as well as some improvements to the camera while in vehicles to make it less "shaky."
New Crate
We have a new crate coming online next Tuesday, April 26th. We have a small team of folks who work on the items that go into crates as well as building items that we can use as rewards in future systems. Whenever they get enough items that we can pull them together into a new crate, we go ahead and do that. This particular crate is a little bit more on the wild side, all being themed around big time Wrestling. Called the Extreme Zombie Wrestling (EZW) Crate, it is a collection of wrestling-themed items like masks and tights. My favorite is the champion's belt. It actually is a skin to go in place of body armor, so if you find body armor in the world and have the belt to skin to it, you get a pretty sweet look going on.
Recent Bug Fixes (that will be working their way up to the Live servers over the next few weeks)
Cameras, as mentioned above
Hit markers should no longer appear when hitting a door
Parachutes should get stuck on objects much less frequently
You should no longer take damage at the end of the parachute sequence
Added a UI option to auto fill your team in 2 and 5 man BR matches
We also have another potential fix for the entire map turning green (we cannot reproduce this issue, so we are making some educated guesses on a fix).