PS4 Game Update: Gas Damage, De-Duplication, & Apocalypse Crate!
Plus additional bug fixes & revive kill credit adjustments.
All PS4 servers will be coming offline at 8AM PDT/5PM CEST on Thursday, July 19 for an estimated 3-hour update to bring you increased late-game gas damage, a de-duplication system, revive kill credit adjustments, and more.
Updates
Duplicate items from Crates are a thing of the past! Now, if you get a duplicate item from a Crate, it will automatically be turned into Skulls that you can then spend in the Skull Exchange. If you already have some duplicate items, they will automatically be converted after this update when you visit the Customization screen. The Skull value of each duplicate item is based on its rarity level:

Legendary: 125,000 Skulls
Ultra-Rare: 46,875 Skulls
Rare: 9,375 Skulls
Uncommon: 5,000 Skulls
Common: 3,750 Skulls
Standard: 0 Skulls

Kill and assist credit are now given to the players who initially knock down an enemy, not the players who eliminate them while they're in a downed state.
Damage has been ramped up for the later waves of toxic gas. During the last few phases of a match, it will be impossible to heal faster than the damage the toxic gas inflicts. See below for a graph comparing old and new toxic gas damage values over time: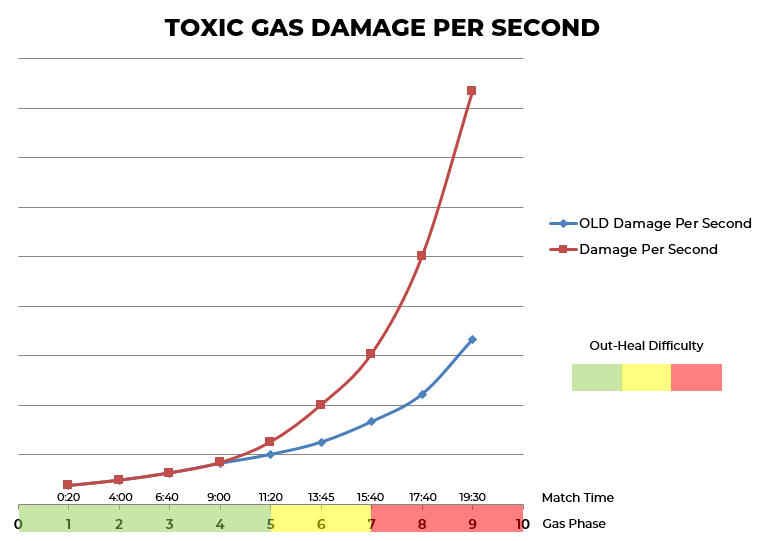 Bug Fixes
Fixed various wearables incorrectly dropping from eliminated players.
Pink Motocross Armor now counts towards the Homemade Destruction Challenge.
Fixed a crash that could occur when quick-throwing the last throwable in your inventory.
New Items - Apocalypse Crate
Fight like it's your last day on earth with the items from the new Apocalypse Crate, now available from the in-game Store! Whether you want to feed your wild side with new Unicorn items or go out guns blazing with animated weapon skins, this Crate is sure to help you bring the mayhem.