PS4 Game Update: Arcade Mode, Freedom Bundles, and More!
Participate in the limited-time Scavenger Hunt in Arcade mode for a unique reward!
All PS4 Live servers will be coming offline at 8AM PDT on Thursday, July 5 for an estimated 4 hour downtime to bring you a NEW Arcade mode, bug fixes, and Freedom Bundles - check out all the details below.
Arcade Mode: Scavenger Hunt
| | |
| --- | --- |
| | |
|   | Scavenger Skull Helmet |
Many battles have been fought across Pleasant Valley, and many brave souls have met their demise during their fight for victory. As a tribute to those that came before you, you will find two types of skulls across the map, each offering their own challenge and reward:
Wasteland Skull (Easy)
Found more abundantly around the map, find and collect 50 of these skulls before the end of the Hunt. However, these Wasteland Skulls are still in limited supply each match, so keep your eyes open as you scavenge for gear. Collecting 50 of these skulls (your progress carries between matches) will get you 3 Silver Victory Crates.
Skull of the King (Hard)
This skull, from the very first H1Z1 winner, is far more rare - only 1 per match can be found randomly on the map. The Skull of the King is haunted, and the golden energy it emits can be both seen and heard. Locate this skull, acquire it, and WIN a match while you possess it to unlock the elusive Scavenger Skull Helmet. The Skull of the King can also be looted off others, and any lootbag with it will be clearly seen to contain it. Find it or kill for it, the goal is the same - possess it and win!
Scavenger Hunt will only be available in Arcade mode until Tuesday, July 10, so be sure to earn your Helmet before the Hunt ends!
Updates & Bug Fixes
Quick-throwing a grenade now properly interrupts shotgun reloads.
Players are now awarded kill credit when damaging a player who then dies from falling damage.
Revive timer now properly shows when beginning a revive right after healing.
Reviving is now canceled if the player being revived crawls too far away from the reviver.
Players will no longer go into a downed state if they die without any teammates still alive.
Camera no longer transitions to first-person when downed while aiming down sights.
Airstrike Signal is no longer missing tier info in the item pickup UI.
Airstrike Signal can now be picked up when all throwable slots are occupied.
Weapons now appear with their correct skins when dropped from opposing players.
NEW ITEMS - Freedom Bundles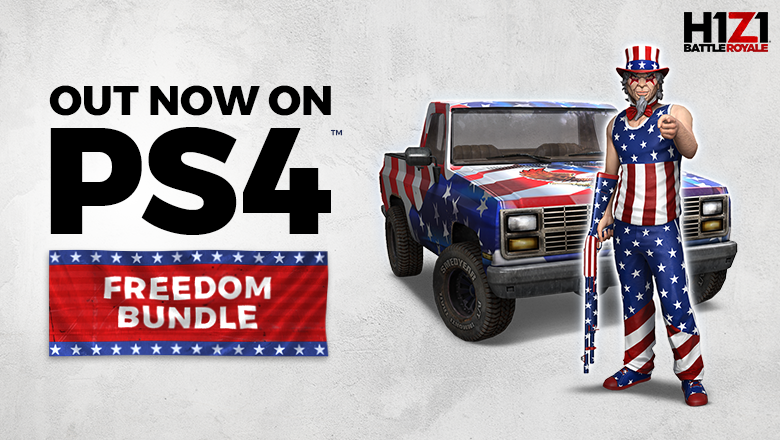 Soar on eagles' wings with the NEW Freedom Bundles, available for a limited time from the in-game Store! Featuring a highly-patriotic full outfit, weapon, and vehicle skin, we want YOU to look your best when you parachute in for the win.
Purchasing any of these Bundles grants you a Crate that guarantees you ALL the items inside. Once you grab these Bundles from the Store, head to your Customize section to open them up and equip everything inside!