Your Guide to Season 6 of H1Z1 on PS4!
New Season Rewards, Events, Challenges, and the Upcoming Debut of the Razorback Highlight the Newest Season of H1Z1 Mayhem!
PS4 servers will be coming offline on Thursday, November 14 during the below times in each region to bring you Season 6:

NA: 8 AM PST / 11 AM EST
EU: 3 PM PST / 11 PM GMT

Servers are scheduled to unlock after an anticipated 2-hour downtime.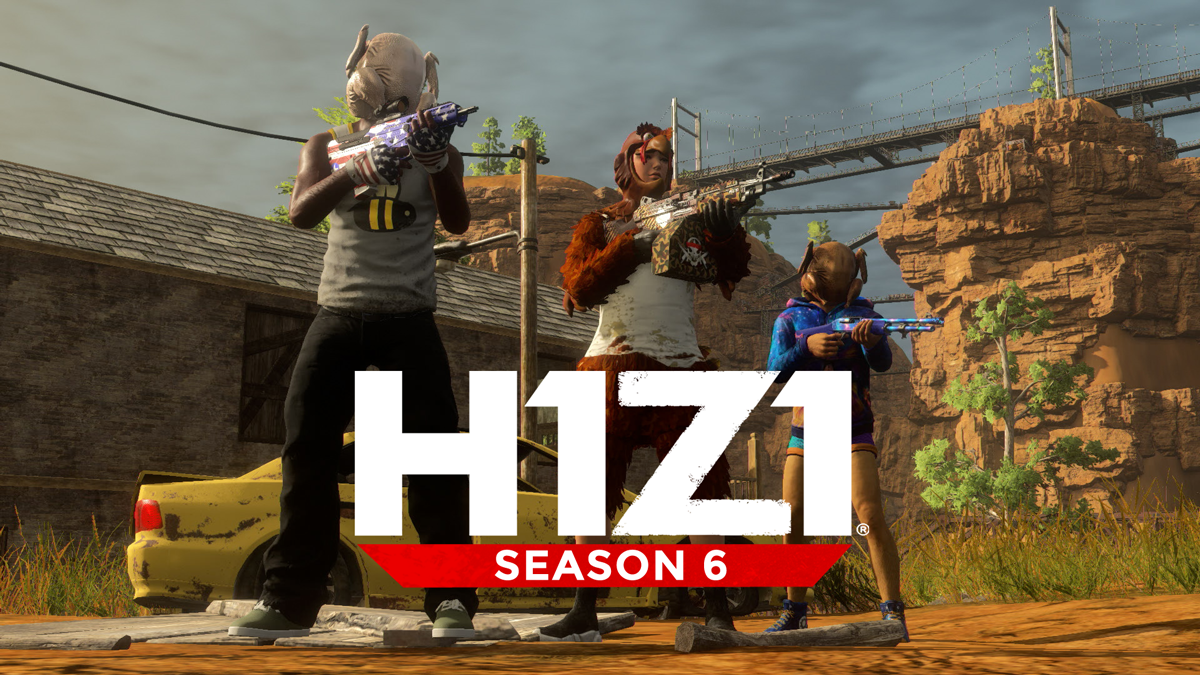 Welcome to Season 6 of H1Z1 on PS4! New Season Rewards, Holiday Events, Challenges, and a mean new addition to the H1Z1 motorpool are all headed your way - read on for a look at some of the big features coming this season! 
SEASON REWARDS
Season 6 kicks off with 50 new tiers of rewards that can be unlocked across Free, Premium, and PS Plus lines by earning XP and completing challenges. Each line is loaded with goodies, including Outfit Crates, credits, XP, and new cosmetics for your character. Here are the different options for unlocking Premium Season Rewards in-game:
Season Rewards Premium (500 Crowns)
Season Rewards Premium + 25 tiers Unlocked (1200 Crowns): Unlocks Arsenal Crate, Guardian Crate, Outlander Outfit Set, Assault Rifles Crate, Apocalypse Crate, 3x Random Locked Crates, 3x 50% XP Boost (1 hour), 470 Credits, 1500 XP
Season Rewards Premium + 50 Tiers Unlocked (2000 Crowns): Unlocks ATV Rampage Crate, Turbo Crate, Elegant Crate, Sandstorm Crate, Macho Crate, Partywear Crate, Vixen Outfit Set, Arsenal Crate, Guardian Crate, Outlander Outfit Set, Assault Rifles Crate, Apocalypse Crate, 3x Random Locked Crates, 3x 50% XP Boost (1 hour), 990 Credits, 2500 XP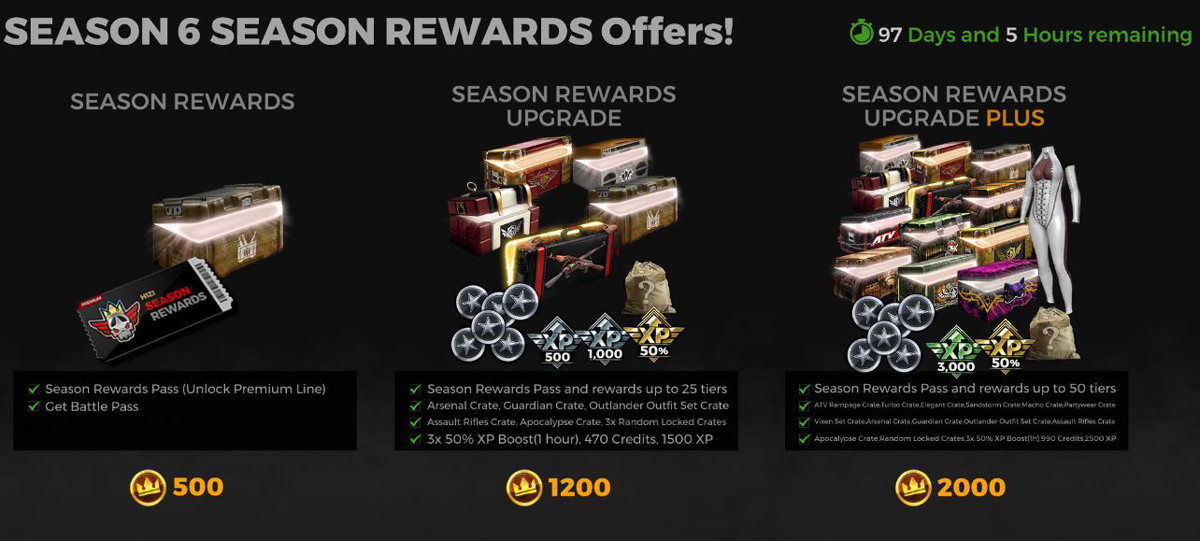 Claim all 50 tiers of rewards to conquer the Outland in style!
IT'S TIME FOR A TURKEY HUNT!
In keeping with H1Z1 holiday tradition, Season 6 is loaded with seasonal events and special rewards available in limited-time Arcade Modes. First up, the return of a Thanksgiving classic: Turkey Hunt!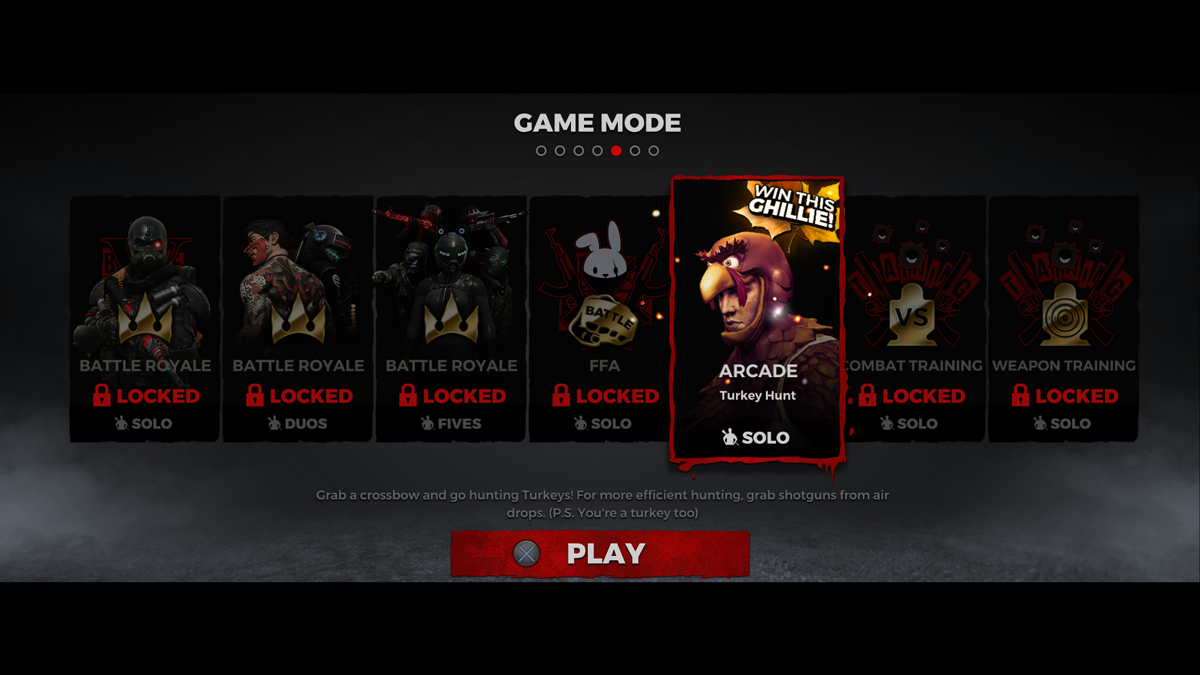 Get ready to gobble up those dubs in this new event starting tomorrow, Thursday, November 14, and running through Monday, December 2. Turkey Hunt matches play out like typical Solos matches, with one big exception: everyone starts out in their own personal Overstuffed Turkey Ghillie!
As befitting a skilled game hunter, Crossbows are lootable in-match, with Shotguns available via air drops. Win 1 match of Turkey Hunt while it's available in Arcade Mode and you'll automatically unlock the Overstuffed Turkey Ghillie to wear in any game mode!
And for you Z2 fans, Turkey Hunt will take place on the classic H1Z1 map! Stay tuned for more Holiday events as we get closer to New Year festivities! 
COMING SOON: INTRODUCING THE RAZORBACK!
Clear space in your garage, H1Z1's motorpool is getting bigger and badder!
The Razorback is the newest in high-end, souped up pickup glory. Packed to the gills with extra features, this mean beast offers more torque for improved acceleration, sharper turning, extra grip and added stability. Time your boost at the exact right moment during your power slide to catch some extra juice while in pursuit of your prey!
Mark your calendars next week as The Razorback looks to make its Season debut! 
NEW THREADS
Looking to update your wardrobe? Here's a quick preview of a few new outfits dropping this season:
Like explosions? So does the Demolition Expert.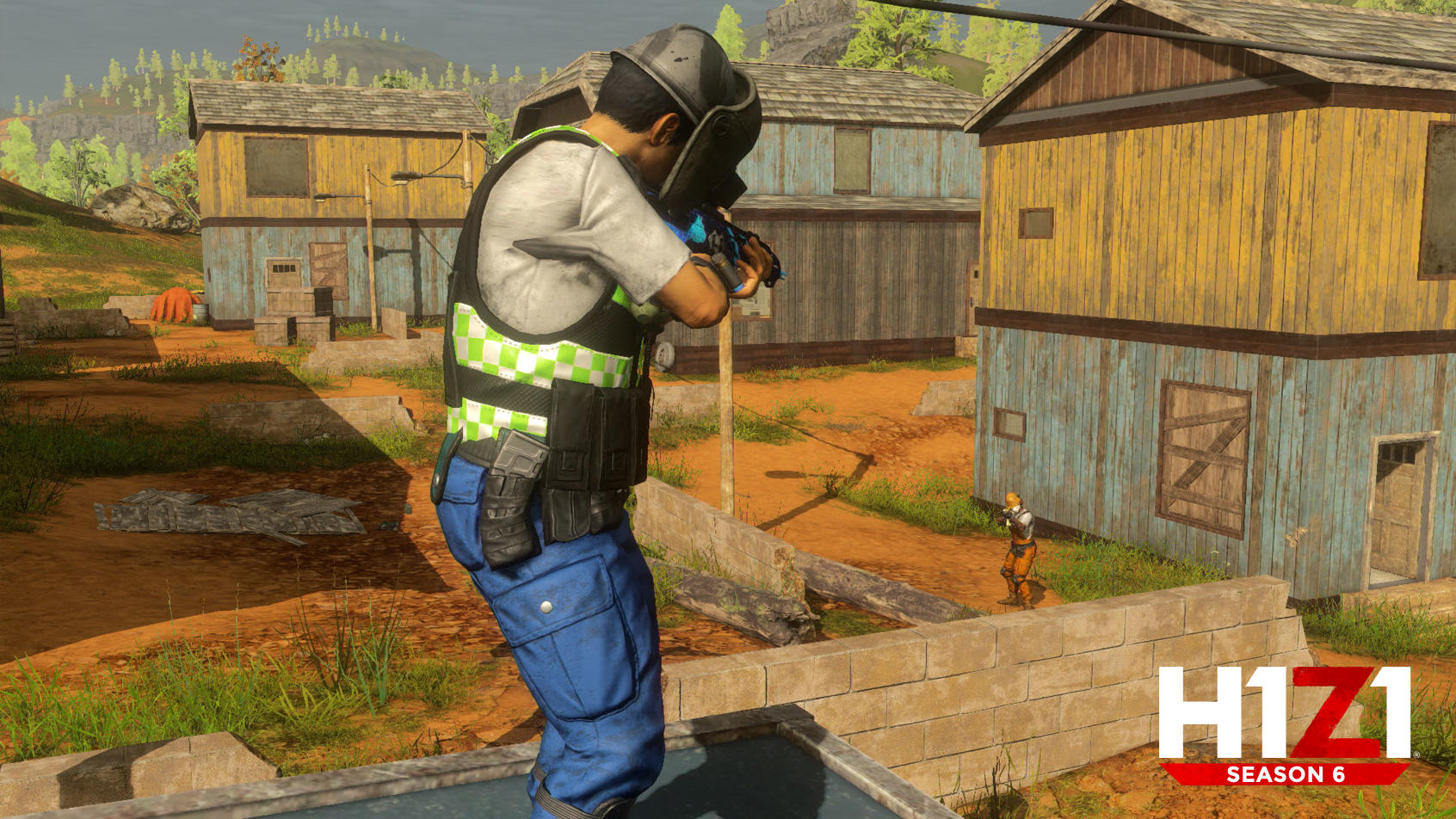 If you need work done right, the Tactical Welder is always just one snipe away.
Or if it's a fire fight you want, The Bombardier has your answer all day every day. Just stay away from the red backpack... 
...unless that's bacon you're looking to cook???  Then try the new Bacon Ghillie in Crispy and Ultra Rare editions!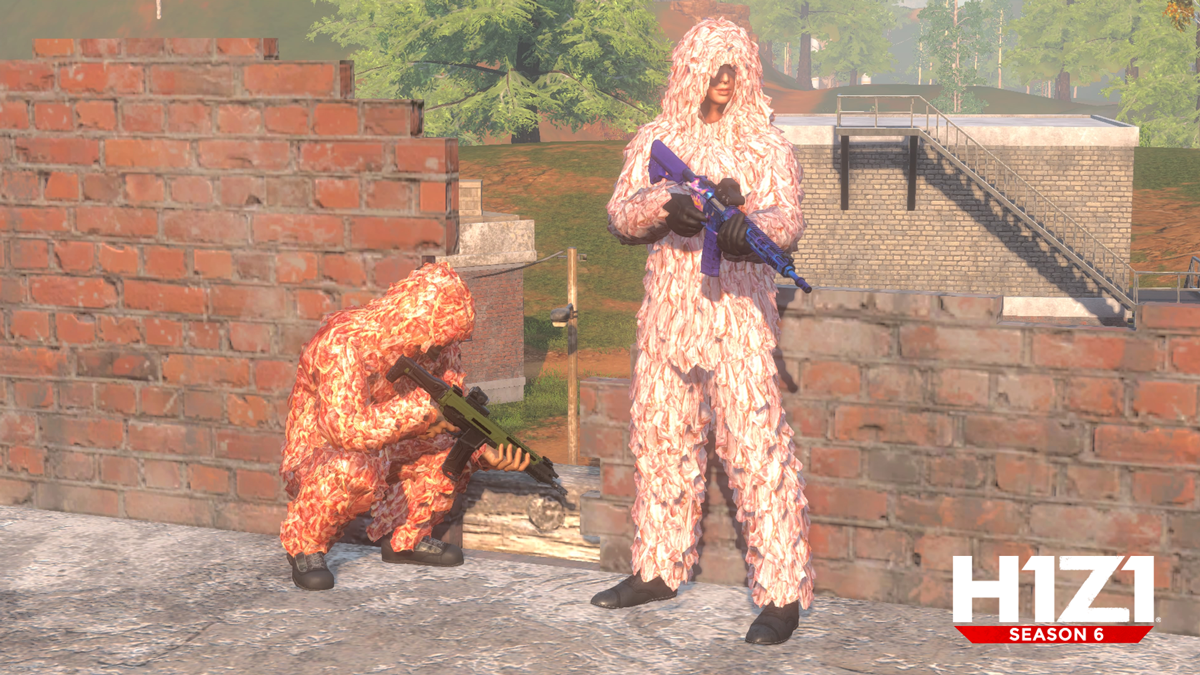 Excited for Season 6 to kick off? Let us know on Twitter, Facebook, or the official forums!