Season 6 Rank Rewards
Finish Season 6 strong and earn premium rewards!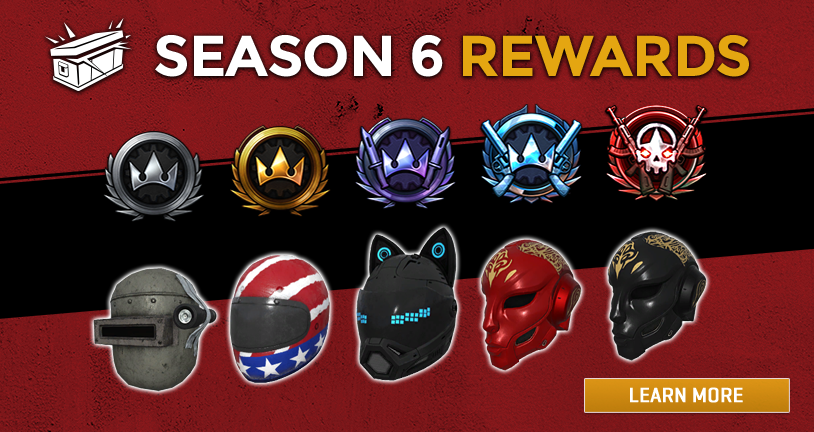 EDIT: Season 6 start date has been pushed back to March 11 (from March 4) due to a necessary server migration in our EU region scheduled for this week.
Season 6 has been extended through Wednesday, March 11 - just enough time to secure your placement on the Leaderboards and earn premium rewards for your prowess!
As with prior seasons, rank up to a certain tier on the Career Leaderboards by the final day of Season 6 and you'll earn the current tier reward and ALL the rewards from the tiers you passed during your ascension: 
Silver: Tactical Welding Helmet (Rare/Purple)
Gold: Patriotic Motorcycle Helmet (Ultra Rare/Gold)
Platinum: Stealth Cat Tactical Helmet (Legendary/Orange) 
Diamond: Red Seraph Mask (Legendary/Orange)
Master: Black Seraph Mask (Legendary/Orange)
All rewards will be auto-granted after Season 6 concludes.
How high will you climb by Season 6 end? Sound off on Facebook, Twitter, of our official forums!