SetToDestroyX Breaks Down Teamwork
Get to know the players and what being part of a team means to them!
Team SetToDestroyX recently competed in the Fight for the Crown tournament, which will air Thursday, April 20 on The CW! We sat down with the players to talk about coming together as a team and their experiences with the competitive gaming scene.
SetToDestroyX fields a very diverse and skilled set of players. Team captain Omniskillz won the 2015 #BRBadass competition and has placed in the top 10 in three out of four H1Z1 Invitational matches. Aw_naW and Raeldon have been successfully leaderboard grinding since the early days of the game. Viva La BAD was the first signed female professional H1Z1 player and has put over 3,000 hours into the game. DougisRaw rounds out the roster - he started playing H1Z1 in October 2016 and has managed to end every Pre-Season with a top 100 spot on the leaderboards.
The Players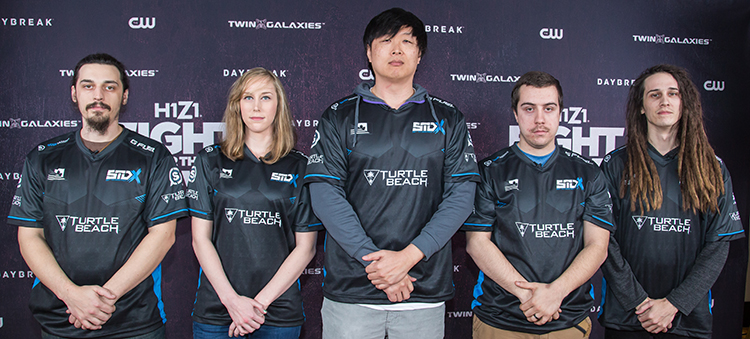 What were some of your early experiences with video games?
Raeldon: I started at the beginning of the FPS genre with Wolfenstein 3D. I got to experience one of the first games of the genre. Coming from my early beginnings, it's really exciting to be able to be a part of the King of the Kill scene and watch it grow.
Viva La BAD: It's been my dream to be involved in competitive gaming since I was a kid. When I was 9, I remember my dad telling me, "You're going to be great at video games because you're starting so young." I was playing the first Unreal Tournament on 56K like, "I'm gonna be a pro one day."
How did the SetToDestroyX team first come together?
Omniskillz: A recruiter from the org connected me with the STDx owner, Charlie, who asked if I was interested in putting together a team. I wasn't sure at the time because I had so much on my plate, but after talking it out I decided it was something I could work into my schedule. I picked up Raeldon first because he kind of reminds me of myself. He's a very cerebral and methodical player, but he's also aggressive. Raeldon had a history of playing with Viva, so we grabbed her next. Viva referred us to Aw_naW, and I picked up Doug after seeing his name on the leaderboards. I watched him stream and saw he was very vocal, which I liked a lot.
What was your initial reaction when you found out you were going to play for SetToDestroyX?
DougisRaw: Omni came into my stream and started talking to me - I had no idea who he was or what was going on, but my chat freaked out. He ended up asking me to go through a tryout process for the team. I spent two weeks after tryouts going back and forth, telling myself I wasn't going to make it. When I was finally asked if I wanted to join the team, I had to spend about 5 minutes picking my jaw up off the floor because I was so happy.
Raeldon: I was just very honored to be asked to join. When I started putting hours into this game, there was no way to really turn it into a professional career. It was all based off passion, and really loving the competitive aspects of the gameplay.
What's your favorite part about getting to play for SetToDestroyX?
Viva La BAD: We were one of the first teams to form, which I really like. It's also great to be part of a legit org, and the fact that we can be on a team and support the competitive side of the game is really cool.
Raeldon: I think it's awesome to be able to be part of an organization that's supporting the game. To be a part of this level of competition is definitely something I enjoy.
Omniskillz: It's great to grow with the game, get better, and see the scene develop. Getting to be involved with everything and everyone is the best part.
What do your playstyles generally look like, and how does this play into the team dynamic?
DougisRaw: I usually flank. I just tell my team that every time we get into an engagement, put me somewhere I can kill people and I'll get it done. Omni is our technical guy - he always makes sure we have a backup plan. He can kill, so I can't disregard that, but he keeps us a step ahead by making sure we always have another plan. Viva is our hidden talent. If no one sees her coming, you're going to see her name on the kill feed a lot.
Viva La BAD: If there's close-quarters combat, there's a high chance that I'm taking someone out with a shotgun.
Raeldon: I can slay, but I find my best place on the team is to be strategic and fill whatever gaps are necessary.
Aw_naW: I'm really aggressive, but it doesn't translate well to competitive fives games. In fives, my main goal is to strike when necessary and not to be seen or heard until that moment.
If you could give a piece of advice to a player who wanted to get into the competitive scene, what would you tell them?
DougisRaw: Grind, try to get your name out there, be respectful, and play better than the others.
Aw_naW: Making friends is probably the best thing to do. We are a close community and having a good reputation will go further than a high score in a solo game. Some people will be toxic and then burn bridges before they even have a chance - don't be that fool.
Omniskillz: Practice how you play, and play how you practice. Also practice patience and consistency.
You can see SetToDestroyX in action in the H1Z1: Fight for the Crown tournament on Thursday, April 20 at 9/8c on The CW!