EVENT: TURKEY HUNT
The event will be available November 22nd through November 26th.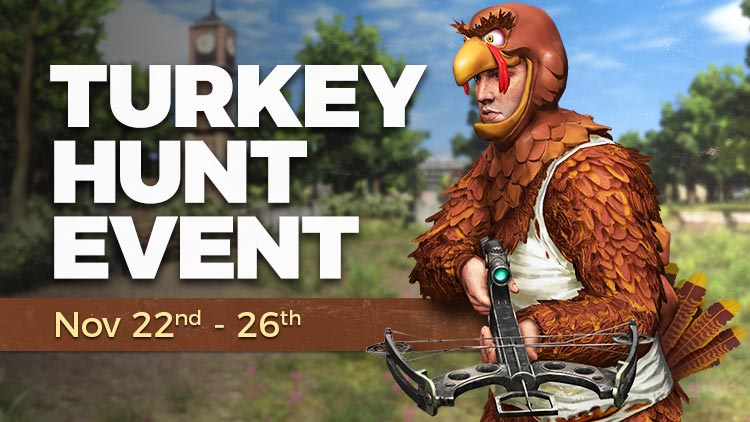 A new Event is available in H1Z1 just in time to celebrate Thanksgiving! The turkey has it pretty rough this time of year and you're about to get a little taste of that.
HOW TO PLAY
Players all drop into The Arena in giant turkey suits. You won't be able to unequip or shred your turkey suit. The only weapons that spawn around the map are crossbows and arrows so you're going to need to be a good shot if you want some early match kills. Later in the round, several airdrops will descend onto the map bringing with them Shotguns and ammo. You'll need to waddle out into the open to get your hands on a Shotgun but the risk is worth the reward.
The Turkey Hunt starts with the gas already surrounding Pleasant Valley so the action will come quickly. The winner of a Turkey Hunt Event will be rewarded with the Overstuffed Turkey Ghillie Suit permanently.
The Turket Hunt is an Event, so in order to find it you'll click Play and then at the bottom of the list you'll see the Events button. From there you'll see a list of all the times the Turkey Hunt Events are kicking off in your region. The event will be available starting on November 22nd and will run through November 26th.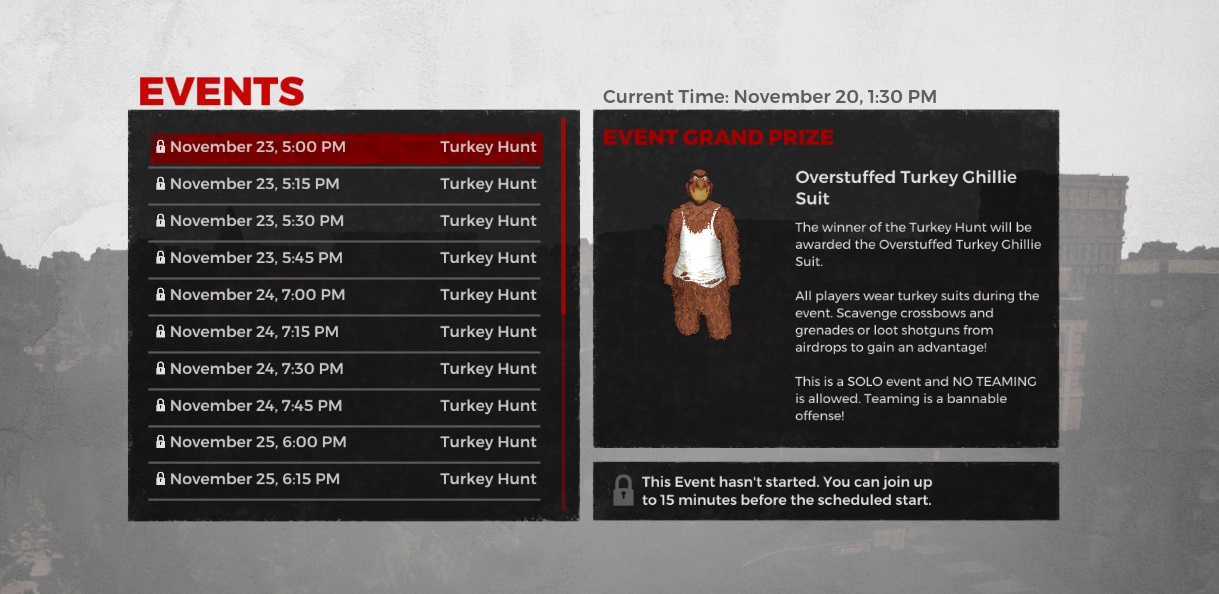 TEAMERS NOT WELCOME
Each Turkey Hunt match is a Solo game, so cooperating with a friend is a bannable offense. There will be in-game GMs in matches actively looking for teamers. If you're caught teaming during a Turkey Hunt match, your Daybreak account will be banned, meaning you'll lose access to all games and purchases. Trust us – the consequences are NOT worth it!