Launch Day Producer's Letter
The day has arrived!
Today marks a momentous milestone for the team, our players, and the game -- H1Z1 has officially launched out of Early Access!
H1Z1 has come a long way since we first released it three years ago. It was a unique project at Daybreak, which started with a small group of developers who were given a mission to "make something fun". Over time, that mission evolved into one of Steam's best-selling titles of 2017 and put Battle Royale games on the map. H1Z1 is the fast-paced, competitive battle royale game it is today because of you, our players. And, with 3 Invitationals, 3 Showdowns, 2 Elite Series stops, 1 nationally broadcasted tournament, and a Pro League, you all have also helped to establish a new esports genre.
So, what does launching out of Early Access really mean? The core game has reached a place that we're really happy with – it's stable, the combat feels good, and this update includes the final pieces of the puzzle for our version of battle royale. However, launching out of Early Access doesn't mean that development stops. Far from it. H1Z1 has a bright future ahead and we'll continue refining the game and adding new features to bring you the best H1Z1 experience possible. 
More about the future later. Let's get down to what today brings!
First, a BRAND NEW GAME MODE! This was one hard secret to keep, but we are excited to bring you Auto Royale™, a new team-based, vehicular battle royale game mode. We've seen how entertaining driving around can be in H1Z1, so we decided to run with the idea and have a little fun. In Auto Royale, we lock you and your teammates into a vehicle, launch you into the map with up to 29 other teams and watch the mayhem unfold. During development, the team had a lot of fun adding new elements to the game specific to Auto Royale that help fuel the vehicular chaos, including the new ARV military-style vehicle, a light machine gun, landmines, corrosive gas, jumps (double jump!), ramps, oil slicks and so much more. Auto Royale is now available in beta and we can't wait for you to try it out. More details about Auto Royale here too! 

Second, we've added a ton a new features and polish to the core game, including a scoring overhaul that rewards consistency, Tactical Deployment, visibility updates, and more.
No more Preseasons! Today is the beginning of Season 1 and with it an all-new scoring system that rewards consistency, which even includes the potential for de-rank. Don't worry though, because while a handful of below-average games may bring down the overall ranking, it will never remove a player from the highest level of placement rewards achieved. This is intended to allow players to play how they wish in order to rank up, and always know how far away they are from the next tier.
The goal was to make our current system more friendly and intuitive for all playstyles, not just the need for a 15-bomb in order to rank up. Your core Top 10 games will still carry a heavy amount of weight, but we've added a few modifiers specifically around average placement and average kills. This will let current players to keep playing the way they have, but also allow those players that place well but rarely get more than a few kills a game to still rank up and improve (or vice versa).
Another feature that many of you have helped us test is Tactical Deployment, the ability to select which sector you will parachute into at the start of the map. Each individual zone can be selected while waiting in Fort Destiny, and a supporting heatmap will pop up indicating where other players have selected to spawn. Whether you want to drop with the masses, or pick a quiet corner like the Dam, that option is now yours. In team games, the team leader will select the general spawn quadrant. If no selection is made, a player (or team) will be dropped randomly somewhere near the safe zone.
We've also overhauled the in-game UI to match the style of the rest of the game and make things easier for everyone. Some of the larger additions are a mini-map in the lower right corner (turn it off or switch corners if you wish), a more organized settings menu for adjusting on the fly, and an easier to use inventory menu. These updates should allow all players to understand their current situation and settings much quicker at a glance, and we wanted to ensure that the new design maintains the muscle memory acquired through thousands of hours of playtime.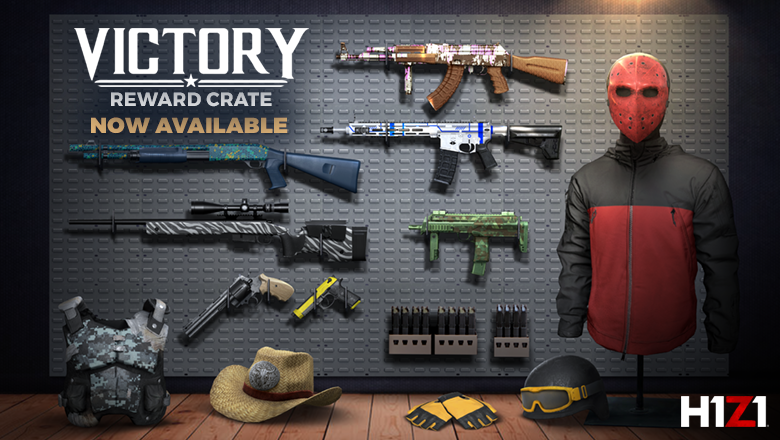 Playing H1Z1 just got even more rewarding - you can now earn the NEW Victory Crate for winning and Skull rewards for placing well in different match types! Click the image above to see how you can earn exclusive new skins through gameplay, leveling up, and the Skull Store.

Development doesn't stop at launch. Still to come this year is the release of Z1 Remastered and much more. Of course, our team is always working on keeping the game fair, banning cheaters as we find them and updating our anti-cheat tools so everyone can enjoy their game. Fair play is an important aspect of the game, and that focus will also never stop.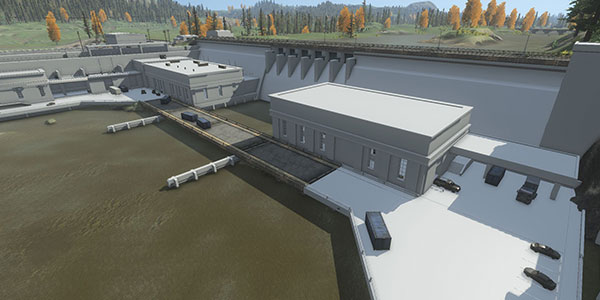 Our work on overall optimization, which includes FPS improvements, remains a top priority as well. We've adjusted how trees appear in the world (leading to more FPS), and also set an alternative time of day to provide better colorization and visibility of other players. The effort for higher FPS will continue with each update as we move forward.
Again, we want to thank you, our fans and players across the globe who have been with us from the beginning and for continuing to play the game over the years, seeing us through even the bumpy roads along the way. To show our appreciation, we will be giving away these exclusive "H1Z1 Evolution" shirts on our Twitter page, with details to follow. You'll also get one in-game to show off.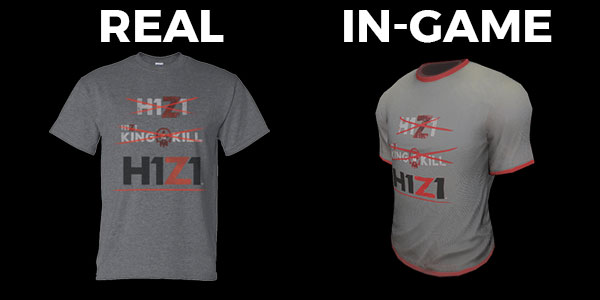 Everything above has been a culmination of our three-year journey, so buckle up and get ready to put the pedal to the metal! I'll see you in game. - Anthony Castoro